Alonso predicts weekend of gambles
| | |
| --- | --- |
| By Jonathan Noble and Matt Beer | Friday, August 27th 2010, 14:44 GMT |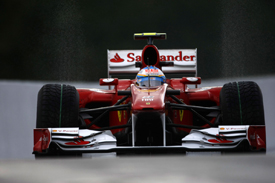 Fernando Alonso believes the whole Belgian Grand Prix weekend will be a case of 'gambling' for the title contenders, with mixed weather conditions set to complicate proceedings.
The Ferrari driver was fastest in both Friday practice sessions, which saw varying levels of rain.
"It was a normal day for us, trying to check the car in all conditions," said Alonso.
"We know it will be changing conditions this weekend in terms of weather, so we try to set up the car for wet, for inter and dry conditions.
"Everything worked fine for us. No big problems with the car or the set-up, so we are happy with today's performance but knowing that tomorrow will be again a very tough competition again with the top teams, especially with the changing conditions.
"You need to gamble in qualifying and the race, trying to make the right decision at the right moment because you can gain two or three seconds in one lap.
"We are not talking about two or three tenths. We are talking about a lot more - so it is important to be lucky in this type of weekend and for sure to be competitive."
Alonso admitted that he would prefer consistent weather as he feels the top teams have too much at stake in changing conditions and cannot afford to take the bold chances that an underdog could.
"I think dry conditions or stable conditions are the best thing for the top teams normally because we know our car is competitive, we know we have a chance to do well," he said, "so any different conditions or any gamble you put on the table gives the possibility to the smaller teams to risk to go for a wet set-up completely or dry set-up and have a very strong race after.
"But at the same time being five drivers in the fight, having these different weather conditions, if you have a mistake or your strategy doesn't work then you can lose a lot of places.
"If this happens to one of your rivals then the advantage is much bigger on one of these weekends, so let's try to concentrate on our job, it doesn't matter what weather we have at the end."