Ferrari should be confident, says Alonso
| | |
| --- | --- |
| By Jonathan Noble | Thursday, August 26th 2010, 18:05 GMT |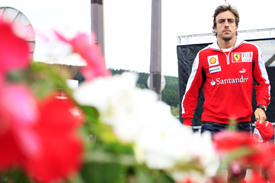 Fernando Alonso has urged Ferrari to believe in itself as he confidently predicts a strong fight for victory from his team at this weekend's Belgian Grand Prix.
Although his outfit has won just two races so far this year, he thinks the rate of progress the Maranello outfit has made, plus the nature of the Spa circuit, means he has reason to be optimistic for the forthcoming event.
"We have improved the car in the past three grand prix races and now have a very competitive package so we know we will be tough competition," said the Spaniard.
"We know Red Bull will be strong everywhere, we know McLaren will be strong in some circuits such as this one and Monza, so we expect very tough competition. But I think we have the experience of fighting for a world championship also.
"Ferrari has had great success on this circuit also, so there is no reason to be pessimistic at the moment. I think we should be the opposite. We need to be very focused and optimistic and believe in ourselves and trust our work - and hopefully repeat what we did in Hungary and Hockenheim."
Alonso believes the world title fight is totally open - and thinks there is everything to play for over the next seven races for what he thinks will be a 'mini' championship.
"I have a 50 per cent change of winning the world championship," explained Alonso. "50 per cent I can win/50 per cent I cannot win. We are all the same.
"There is a chance if we do better than the others in these seven races we win the championship, if someone does better than us, they will be the champion. 20 points is a very small difference, so we just need to do a short championship - a seven race championship.
"I think the championship will be decided over these seven races - and there will also be the luck factor because in any championship victory you need to be lucky. For example this weekend the weather is so/so, so you need to be right in your decisions at the right time in the right moment.
"Then you also need to have the most development on your car, so there is a race, not only at the weekend but a race in the factories to make improvements to the cars, quicker than the others.
"As I said it is a mini-championship, a seven-race championship. Whoever does better will be the champion. We will try as hard as we can."