Massa: Ferrari in good shape for Spa
| | |
| --- | --- |
| By Jonathan Noble | Tuesday, August 24th 2010, 14:49 GMT |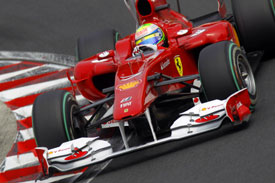 Felipe Massa thinks Ferrari can take nothing for granted about its form for this weekend's Belgian Grand Prix - even though he thinks its title fightback has gone better than expected.

Ferrari had set a target of winning one of the races before the summer break, and its dominant form in Germany – albeit full of controversy – served to rejuvenate its championship ambitions.

But despite the step forward in form, Massa thinks the way the pace of the leading teams has fluctuated so much this year means that predicting how things will pan out at Spa is impossible.

"We look in good shape, with some new parts coming as part of our constant development programme on the F10," wrote Massa in his blog on the official Ferrari website.

"The last time I raced here was in 2008 and it's not just because I won the race that I love this track. I think all the drivers look forward to racing on this fabulous circuit. It is high speed, requiring less downforce than at many of the other tracks and fortunately, in the last few races, we showed that we have returned to being very competitive, even better than we had expected.

"But it is very hard to predict what could happen, as the small differences between the top teams means that performance has been very much track specific in terms of who had the slight advantage over the rest. As usual we need to wait and see how free practice goes before knowing what to expect."

Massa hopes that Ferrari can kick off the final part of the championship with the same determination and success that it finished off with before the summer break, especially as it will be knuckling down for a title fight.
"There are only seven races left to go and I think that for the spectators and viewers at least, it should be a really exciting final part of the year - even if it might be a bit more tense for those of us competing," added Massa.

"But myself and Ferrari have been in this sort of situation before and we know how to deal with the pressure, by concentrating on the job in hand.

"Now we must build on the way we ended up just before the break, being competitive and putting ourselves back in the fight.

"I am definitely really motivated to get back in the cockpit because, even if I enjoyed the short holiday, I have to say I missed driving my race car and I can't think of a better place to start again than at Spa.

"Even if it rains – and when didn't we see water at Spa? – this is still a very enjoyable track to drive and actually it can be good fun in the wet. We just have to make sure we are ready to make the most of whatever the weekend throws at us."