Hirvonen: Germany stage dangerous
| | |
| --- | --- |
| By David Evans | Tuesday, August 24th 2010, 12:50 GMT |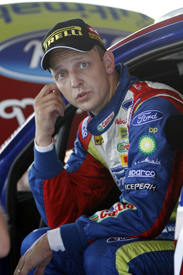 Ford driver Mikko Hirvonen has urged Rally Germany organisers to reconsider the use of certain stretches of the Pazerplatte stage after he described them as dangerous at the weekend.
The 29-mile stage looks like being the longest of the season, but Hirvonen was no fan of the difficult Baumholder test. Having retired from the event with transmission problems on Sunday, he said he would prefer sections of the stage to be changed before next season.
"We were doing 190kph and you have lots of short corners where the hinkelsteins [concrete blocks to keep tanks on the road] are right there at the side, like right next to the stage. The road down there is quite bumpy with a broken surface.
"We did these sections last time, but we were going on the other direction and there were more hay bales in front of the hinkelsteins. I think this needs looking at before the next Rally Germany."
Stobart driver Matthew Wilson agreed with Hirvonen, adding that he was pleased the event ran in dry weather. Wilson said: "It wasn't great in those sections, but it would have been worse if it had been wet. The speed would have been pretty similar even in the wet, but the car would have been sliding much more."
Rally Germany master - and winner of all eight of German World Rally Championship rounds - Sebastien Loeb disagreed with the Ford men and defended the Trier-based event.
"I think it's a problem of perception," said Loeb. "I would rather drive at 130kph or whatever the speed along that stage in Germany than some of the speeds we do in Finland. I think this is more about the feeling for the driver in the car, but I was not concerned by the [Panzerplatte] stage."