Q & A with Eric Boullier
| | |
| --- | --- |
| | Tuesday, August 24th 2010, 12:19 GMT |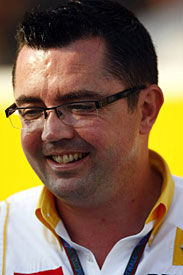 Q. Eric, let's look back on Budapest where both R30s qualified in the top ten and showed good pace over the weekend. Were you satisfied with the performance of the car?
Eric Boullier: It was very good to see the relative pace of the car and to see both drivers qualify in the top ten. However, the outcome of the race was a mixed one because we missed the chance to get both cars in the top six. Also, we are here to fight everyone and it's clear that Red Bull are still much quicker than us. So we know that we still have a lot of hard work ahead to improve our pace if we want to fight with them. Vitaly finished fifth in Budapest, his best result in F1.
Q. You must have been very proud of his performance?
EB: The whole team was very happy with Vitaly and it was his best weekend so far. He and the team prepared the car well during free practice to be ready for qualifying, and then he had a faultless race. It was a complete weekend without any mistakes and I think this is as much as you can expect from a rookie driver.
Q. What will this result do for his confidence as we enter the final third of the season?
EB: I'm sure it will give him a boost. Now it's up to him to capitalise on this so that he can repeat this performance on a regular basis.
Q. One of the most significant updates of the season has been the blown floor. Do you feel the team is now able to extract the maximum performance from it?
EB: I think we still have some improvements to make in terms of the set-up on the car, but overall we are getting a considerable gain from running the blown floor. The drivers also seem happier with the balance of the car.
Q. The team will introduce its F-duct this weekend. How big a challenge has it been to introduce this device?
EB: It has been a huge challenge. To begin with we decided to focus our development on the blown floor and on other aero upgrades, which is why we are only introducing our F-duct in Spa. It's not an easy device to get right, but the one we have now looks promising in terms of the simulation results we have seen at the factory. But we still need to test it on the car, and this will be the priority on Friday. Itís clear that Spa will be a circuit where the F-duct should bring big gains.
Q. Can we expect the R30 to be as strong at Spa as it was in Budapest?
EB: Let's say that on paper the F-duct should be a big step forward in terms of lap-time gain, so we are obviously keeping our fingers crossed that we can maintain the pace that we had in Budapest.