Virgin confident it can deliver in F1
| | |
| --- | --- |
| By Jonathan Noble | Monday, August 23rd 2010, 10:04 GMT |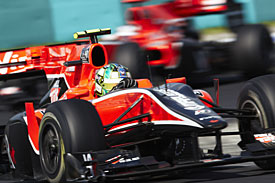 Virgin Racing is bullish that it can deliver both commercially and with its on-track form over the remainder of the season to silence the sceptics who think it cannot thrive in Formula 1.
With the outfit having overcome a troubled start to the campaign, which included poor reliability and a fuel tank issue, Virgin Racing has faced more recent troubles with F1 supremo Bernie Ecclestone questioning whether or not it could survive the year.
But rather than get disheartened about the situation, Virgin Racing's CEO Graeme Lowdon has told AUTOSPORT that he is totally upbeat about its plight - and thinks it can do enough to win over the doubters.
"I think Bernie Ecclestone is obviously entitled to make his comments about various teams," said Lowdon. "But we get on with our job; we know what we need to do.
"However, perhaps we should have kept Bernie more informed of where we are it with sponsors and investors because we do not have any concerns or issues at all. We just have to assume that he is talking about some other teams. It is as simple as that.
"We are here to add to the show as well. We did some innovative things at Silverstone which were really well received by the fans, so we do think over time we can bring something overall to the show as well. At the moment the main thing we can bring now is to make sure we are competitive towards the end of the season and then I am sure the comments will change."
Lowdon says he is happy with the commercial progress Virgin Racing has made, and says there are no financial doubts about this season or next.
"Because of our cost base and because we have this target where we can break even at quite a low level, the amount of sponsorship that we needed to get was a figure that we were always quite comfortable with," he explained.
"The unknown, if you like, was that some sponsorship deals can take years to come to fruition, so the key thing was how quickly we could ramp up to the levels that we wanted. So that was the interesting side.
"Unlike the established teams, the new teams have had to go from literally zero up to a certain level, but we are pretty happy with it. And we are still adding sponsors and signing deals now, to cover the remainder of this season and the following seasons. From that point of view, we are reasonably comfortable.
"But the key to all of this is that it is all reasonably comfortable if your cost basis is low. If we had a cost base of £100 million, or £150 million, or even £75 million, then the task is significantly different. That is where we have the opportunity."
Lowdon has also made it clear that Virgin Racing's future is not dependent on it finishing 10th in the constructors' championship - a feat which would boost its television income revenue by several million pounds.
"It would be nice!" he said. "You marry lots of things together in a business plan, and our objective is to finish as high as possible in the championship. From a technical point of view we set our sights on that, but from a commercial point of view, to be prudent, we always made the assumption that we would get the lowest amount of revenue from the commercial rights holder that is possible under the Concorde Agreement.
"To do anything other than that would mean you are starting to get into some of the models of the failed football teams - and we cannot live in a dream world.
"Our commercial model assumes we get the minimum payment so it is not essential that we finish 10th, 11th, 12th, or 13th. But from a sporting side we obviously want to, and if we were to finish 10th in the championship then it does have a positive implication from a commercial point of view. So we will be trying to do it - but if we don't achieve it we don't disappear! Far from it."
Regarding on track form, Lowdon admits that Virgin Racing's start to the campaign was not as good as the outfit had hoped – but he believes the team is now back on track.
"We had a slower than planned start, but now we have got on top of things – and we are not just getting back on track but really towards where we want to be," he said. "It is well recorded that we had difficulties in pre-season testing, and then the first four flyaway races in particular.
"But since that point it has been a massive turnaround and certainly, if we were measuring ourselves against Lotus, who are the nearest competitor, then our performance since the first four flyaways is massively different. We are fundamentally more reliable, and we have achieved four two-car finishes. So from that side we are pleased.
"Now we are starting to turn the speed back on, and I think that will continue for the rest of the season as well. So, after a slower than planned start, I think we are starting to get back on track and move forward."