Late problems for Hirvonen, Block
| | |
| --- | --- |
| By David Evans | Sunday, August 22nd 2010, 06:45 GMT |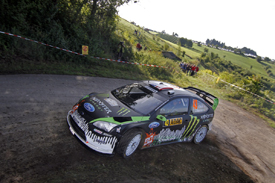 Ford has suffered a miserable final morning on Rally Germany with problems for Ken Block and Mikko Hirvonen.
Block's solid run on his first ever asphalt event came to an abrupt end with an alternator problem before he even reached the first stage. Hirvonen, running under superally after he retired with transmission problem yesterday, hit gearbox trouble on today's second stage. The Finn is limping to service with his Focus RS WRC 09 stuck in first gear, while Block is already back at the service park.
"It sucks," said the American. "We weren't even out of town when the alternator light came on and we switched it off.
"We'd been really consistent throughout the event and that was the plan today as well - we just wanted to get to the finish of this rally. I'd been pleased with the way things had gone on my first real asphalt event, which is also one of the toughest in the world. It's so disappointing."
Block's departure would also come as a big disappointment to the Rally Germany fans out watching on the final day. His sideways approach to the second run of the Panzerplatte had become one of the talking points of Saturday.
"I was quite a way ahead of the guy behind me and there was a minute to the car ahead," said Block. "So I decided that I would put on a show when there were a lot of fans around. We were pretty sideways in some places and they seemed fairly stoked. I think they enjoyed it, but I know that I did."
Block's next outing in the Focus is the Rally of France in October.