Loeb: No pressure for record victory
| | |
| --- | --- |
| By David Evans | Thursday, August 19th 2010, 14:22 GMT |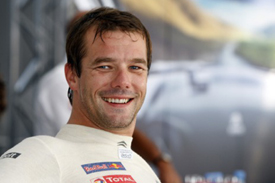 Sebastien Loeb says he doesn't feel under any pressure to become the first driver to win a World Rally Championship round eight times in Germany this week - and won't risk all to break the record.
Loeb has never been beaten on Rally Germany and victory on the Trier-based event this weekend would mean another record broken for the Frenchman. Loeb jointly holds the current record of seven victories on an individual event with Finn Marcus Gronholm, who won his home round of the WRC seven times in eight years.
"The feeling is good on this rally," Loeb said. "I have won here every time, so it's okay for me. The priority here, like everywhere is for the championship. I will start this rally at my speed and if I find the feeling then I will push.
"In Bulgaria [on the last asphalt WRC round] I was able to find the rhythm quite well, it would be good if it's the same here. If I have to take risks to fight, then I don't think I will."
Loeb admitted Rally Germany is one of the toughest events in the WRC calendar, with the constantly changing levels of grip as the event moves through three distinct natures of road.
"It's a tarmac rally, but it's some difficult positions - you have to imagine the grip you can have. You have to feel how it will be, I don't understand how I feel it or if I will feel it every time. It's a question to know where you can push hard and where it will be tricky and you have to lift.
"The main thing is not to have any moments; if you think it will be good grip and you have a moment then you will lose the confidence. Confidence is very important here, not just in the grip, but in the notes, the car and the gravel crew and everything. I don't have a secret for this rally and if I did, I wouldn't tell you!"