Roush surprises with Michigan return
| | |
| --- | --- |
| By Diego Mejia | Saturday, August 14th 2010, 01:20 GMT |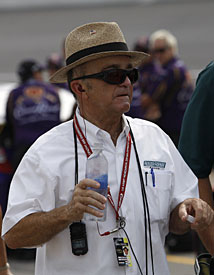 NASCAR team owner Jack Roush made a surprise appearance at Michigan International Speedway on Friday, less than three weeks after surviving an airplane crash.
Only 17 days ago Roush crashed the Hawker Beechcraft Premier jet he piloted while trying to land during an air show at Wittman Air Field in Oshkosh, Wisconsin. He suffered serious injuries in the incident but was able to walk from his wrecked aircraft.
On Friday the man nicknamed 'The Cat in the Hat' attended the Sprint Cup series qualifying session at Michigan, where his Roush Fenway driver Greg Biffle was sixth-fastest behind the Roush-Yates powered Ford of Richard Petty's Kasey Kahne, who claimed pole.
Roush is still recovering from his injuries after being released from hospital this week, but seemed in great spirits while addressing reporters despite revealing that he has lost vision in his left eye.
"I feel very lucky," said Roush. "I've had several bites at the apple here. I'm really proud at the way the organisation has rallied. We were gaining in our performance moving from not where I wanted to be in an area of the top 10 into the top five.
"...Roush Fenway Racing will outlive me, and it will outlive anybody else that is with the company today. We've got the plans in place for that. This was a little test case. How can you do without Jack? Well it's bigger than me. It's bigger than anybody. The organisation has been very strong and we're peaking at the right time of our year.
"We're approaching the Chase here, with I think there's four races including this one left, and so if we don't have a mechanical error and miss a wreck, we have a good chance to put three cars in the Chase."
Speaking about his crash Roush explained that he was trying to avoid a conflict with the fight plan of another nearby aircraft, whilst making his final approach into Oshkosh.
He revealed that besides his facial injuries he suffered a compression fracture in his back but expects to recover from those over the coming weeks, even stating that he plans to continue to fly his own planes.
"I had a damaged left cheek, I had a broken jaw and I had a compression fracture in my back and I've got a back brace for the compression fracture," said Roush. "I have hardware in my cheek.
"I still have packing in my nose because they say its biodegradable and it will come out on its own. I'm still uncomfortable with the fact that I can't breathe clearly through my nose.
"Everything will come back and I was blessed to have great vision in two eyes and now I've got great vision in one."
Roush Fenway Racing driver Greg Biffle claimed the team's first win of 2010 at Pocono two weeks ago, while Carl Edwards claimed pole position last week at Watkins Glen. Three of his four drivers are currently inside the top-12 in the standings, only four races before the championship playoff starts.
The team is hoping to claim a record 12th win at Michigan International Speedway this weekend, a track considered Roush's home as two of his companies are based nearby in Livonia, Michigan.