Patrick supports drivers' association
| | |
| --- | --- |
| By Diego Mejia | Saturday, August 14th 2010, 00:40 GMT |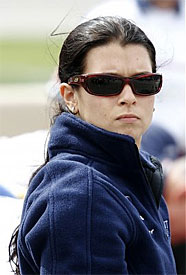 Danica Patrick hopes IZOD IndyCar drivers will have a say in the series through the newly-formed drivers' association.
As AUTOSPORT magazine reported this week, Dario Franchitti, Justin Wilson and Tony Kanaan will front a new IndyCar drivers' association, which is set to work on safety issues and promotion of the series.
Patrick showed her full support for the entity speaking at Michigan International Speedway, where she is set to compete in Saturday's Nationwide series race.
She expects the unified body to have an influence in the series, even on competition subjects such as the recent controversy regarding blocking manoeuvres at Edmonton, which saw Helio Castroneves stripped of victory. Patrick believes the drivers haven't had as much input as they should in the series in the past.
"At Mid-Ohio last weekend we got together as drivers and we think it's a good idea to have voice and to be more professional and unified in what we want," said Patrick. "Those things apply to safety and if there's some run-off or guardrail that doesn't look safe to us, we're the drivers and we're the ones risking so we want something changed.
"To be able to come together on those things and the competition side of things - something that's been a bit of a 'hot button' in IndyCar lately given specially Edmonton and the blocking situation with us, coming together with what those rules should be and how to change them, things on the media, you know, everything, just so that we have a voice because we are participating and we definitely don't have that much input."
Patrick says the drivers' association follows in the footsteps of a similar entity that existed in the CART days, which also worked on charity causes, but stated that it will be just the drivers who rule the group's initiatives voicing their common interests in unison to series' officials.
"Anytime you come together as a group you're more powerful," said Patrick. "We're going to have what used to be called CDA [Championship Drivers Association] in the CART days, a drivers' union kind of thing. It's not going to be something extensive.
"In the old days they used to all pay to be in it and there was a person in particular that was employed to handle things. It's just going to be us drivers for now and a way for us to have an opinion and have a voice that we maybe haven't had strongly before."
Patrick refused to comment when asked if a similar group should be formed in NASCAR, history showing that a drivers' union called the Professional Drivers Association was forced to dissolve by the late Bill France in 1969 after an unsuccessful strike at Talladega, where drivers deemed the track unsafe.
IZOD IndyCar Series officials have welcomed the input they expect from the new drivers' association.