Soucek says Virgin exit was friendly
| | |
| --- | --- |
| By Pablo Elizalde | Thursday, August 12th 2010, 08:34 GMT |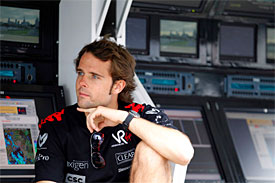 Andy Soucek says his exit from the Virgin team has been friendly and insists there were no breaches of contract whatsoever.
The Spaniard was the team's third and reserve driver this season, but has decided to end his relationship to focus on racing in other series.
"I've left Virgin by mutual agreement," Soucek told AS newspaper. "I asked them to given me the opportunity to continue racing in other categories and they accepted. It was friendly and nothing to do with payments or no payments.
"I'm thankful that they didn't cause me any trouble, which they could have done, to break the contractual relationship for good."
He added: "At this time I feel more like racing in a lesser category than waiting for something that maybe will never come."
He denied reports that the relationship had ended because of a breach of contract from Virgin.
"There was no breach of any kind," he said. "I would only climb into the car to replace one of the racing drivers, although that doesn't mean that I didn't try to drive some Fridays, but that was not something they had committed to. I didn't get it, but the experience has been good to know F1."
Soucek, who has raced once in the Superleague series this year, insisted his main goal remains securing a racing seat in Formula 1.
"People shouldn't think that because I'm done with Virgin I won't be coming back [to F1]. I'm still trying to have an official seat in F1."