Injured Pickett to miss rest of ALMS
| | |
| --- | --- |
| By Matt Beer | Saturday, August 7th 2010, 20:26 GMT |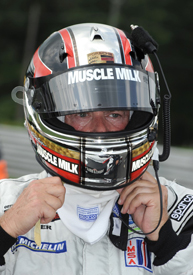 CytoSport team owner/driver Greg Pickett has been ruled out of the rest of the American Le Mans Series having sustained rib and back injuries in his testing crash on Thursday.
Pickett's Porsche RS Spyder landed upside down atop the tyre wall at the end of the accident, and although it was initially thought he had escaped virtually unharmed, he has now been diagnosed with a compression fracture to his L3 vertebrae and two fractured ribs.
He will need up to four months to recover, so will miss the remaining rounds of the series, and may yet have to undergo surgery.
"I was fortunate to have Scott [Sharp]'s doctor, Frank Bono, come and see me yesterday," said Pickett, who took his first ALMS win in the previous round at Lime Rock. "He suggested I go to the hospital for a further evaluation. I'm very grateful and appreciative that he coordinated everything.
"With the cat scan and x-rays they saw that I had a compression fracture to the third vertebrae and two broken ribs which will be keeping me out of the car for three to four months.
"I'm happy that these are the only injuries I had and so grateful that the Porsche RS Spyder did what it had to do to keep me safe."
CytoSport has yet to choose a substitute for Pickett alongside Kraus Graf. Sascha Maassen has acted as a third driver for CytoSport in long-distance races earlier in the race, but will not be available for the next two races.