Edwards takes Watkins Glen pole
| | |
| --- | --- |
| By Diego Mejia | Saturday, August 7th 2010, 18:19 GMT |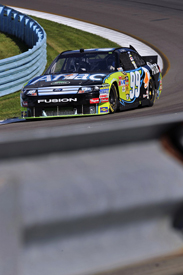 Carl Edwards beat Earnhardt Ganassi team-mates Jamie McMurray and Juan Pablo Montoya to pole position for Sunday's NASCAR Sprint Cup Series race at Watkins Glen.
Roush Fenway racer Edwards carried the momentum from his squad's victory at Pocono with Greg Biffle last week, setting a blistering pace on his qualifying lap to improve on Montoya's benchmark by more than four tenths of a second.
Edwards was the only driver able to break into the 70-second bracket, getting close to the track record that Jeff Gordon still holds from eight years ago. His time of 1m10.882s was set at an average speed of 124.432mph, edging front row partner McMurray by 0.354 seconds.
"Greg Biffle and [crew chief] Greg Erwin helped us a lot with our set-up for qualifying so that was a good team effort," said Edwards, after claiming his fifth Sprint Cup series career pole, his first on a road course.
"We're riding on a wave right now. Roush Fenway and Ford, we're making a comeback here and it feels good."
McMurray just edged team-mate Montoya to the front row by 66 thousandths of a second, in what was the best qualifying efforts for both at Watkins Glen. AJ Allmendinger, fresh from his multi-year deal announcement with Richard Petty Motorsports ended up fourth fastest, joining Montoya on row two.
"It was a good lap, I didn't make any mistakes," Montoya said after earning his best ever road-course start in the series. "It's very hard to get all of it together and you make one mistake here and end up losing half a second. Within check, I'd say it was a really good lap."
Penske's Kurt Busch rounded out the top five as the best Dodge ahead of five-time Watkins Glen winner Tony Stewart, while Red Bull's Scott Speed seemed to be running for pole until losing time at the Carrousel turn, ending as the fastest Toyota in eighth.
Sears Point winner Jimmie Johnson was by far the best from the Hendrick Motorsports camp in ninth, while former event winner Kyle Busch was 10th for Joe Gibbs Racing.
Canadian Patrick Carpentier, making his Sprint Cup series return a year after his last race in the series, was the fastest of the non-guaranteed drivers in 17th, while JJ Yeley, Dave Blaney and Tony Ave failed to qualify.
Pos  Driver              Car        Time       Gap
 1.  Carl Edwards        Ford       1m10.882s
 2.  Jamie McMurray      Chevrolet  1m11.236s  + 0.354s
 3.  Juan Pablo Montoya  Chevrolet  1m11.302s  + 0.420s
 4.  AJ Allmendinger     Ford       1m11.348s  + 0.466s
 5.  Kurt Busch          Dodge      1m11.403s  + 0.521s
 6.  Tony Stewart        Chevrolet  1m11.458s  + 0.576s
 7.  Greg Biffle         Ford       1m11.469s  + 0.587s
 8.  Scott Speed         Toyota     1m11.493s  + 0.611s
 9.  Jimmie Johnson      Chevrolet  1m11.518s  + 0.636s
10.  Kyle Busch          Toyota     1m11.571s  + 0.689s
11.  Marcos Ambrose      Toyota     1m11.611s  + 0.729s
12.  Sam Hornish Jr      Dodge      1m11.648s  + 0.766s
13.  Boris Said          Toyota     1m11.662s  + 0.780s
14.  Denny Hamlin        Toyota     1m11.744s  + 0.862s
15.  Robby Gordon        Toyota     1m11.795s  + 0.913s
16.  Jeff Gordon         Chevrolet  1m11.834s  + 0.952s
17.  Patrick Carpentier  Ford       1m11.921s  + 1.039s
18.  Joey Logano         Toyota     1m11.952s  + 1.070s
19.  Ryan Newman         Chevrolet  1m11.965s  + 1.083s
20.  Kevin Harvick       Chevrolet  1m11.990s  + 1.108s
21.  Ron Fellows         Chevrolet  1m12.095s  + 1.213s
22.  Jeff Burton         Chevrolet  1m12.113s  + 1.231s
23.  Paul Menard         Ford       1m12.126s  + 1.244s
24.  Mark Martin         Chevrolet  1m12.171s  + 1.289s
25.  Martin Truex Jr     Toyota     1m12.325s  + 1.443s
26.  Michael McDowell    Toyota     1m12.413s  + 1.531s
27.  Regan Smith         Chevrolet  1m12.419s  + 1.537s
28.  Max Papis           Toyota     1m12.461s  + 1.579s
29.  Bobby Labonte       Chevrolet  1m12.525s  + 1.643s
30.  David Reutimann     Toyota     1m12.576s  + 1.694s
31.  Matt Kenseth        Ford       1m12.649s  + 1.767s
32.  Brad Keselowski     Dodge      1m12.650s  + 1.768s
33.  Andy Lally          Chevrolet  1m12.689s  + 1.807s
34.  Clint Bowyer        Chevrolet  1m12.728s  + 1.846s
35.  David Ragan         Ford       1m12.885s  + 2.003s
36.  Kasey Kahne         Ford       1m13.135s  + 2.253s
37.  Joe Nemechek        Toyota     1m13.171s  + 2.289s
38.  Elliott Sadler      Ford       1m13.202s  + 2.320s
39.  PJ Jones            Toyota     1m13.341s  + 2.459s
40.  Dale Earnhardt Jr   Chevrolet  1m13.396s  + 2.514s
41.  Travis Kvapil       Ford       1m14.126s  + 3.244s
42.  Kevin Conway        Ford       1m14.561s  + 3.679s
43.  David Gilliland     Ford       1m13.370s  + 2.488s

Retirements:

     JJ Yeley            Dodge      1m13.876s  + 2.994s
     Dave Blaney         Toyota     1m13.957s  + 3.075s
     Tony Ave            Chevrolet  1m14.062s  + 3.180s