Peugeot threatens to leave IRC
| | |
| --- | --- |
| By David Evans | Friday, August 6th 2010, 08:21 GMT |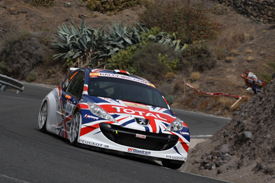 Peugeot Sport director Olivier Quesnel has threatened to walk out of the Intercontinental Rally Challenge if Skoda continues to field factory entries in next year's series.
The Peugeot 207 S2000 has been unable to match Skoda's Fabia S2000 for pace this season, with one of the Czech manufacturer's official drivers - Juho Hanninen and Jan Kopecky - taking a podium place on every IRC round so far this season.
Going into this week's Rali Vinho Madeira, Skoda leads Peugeot in the makes' race by 31 points.
Quesnel said: "We intend to stay in the IRC but for me IRC is done for the importers and privateers. If next year there is still the Skoda official team as they are this year I won't stay. It's impossible for me.
"I won't spend my money to say well done to Skoda. I say to [IRC promoter] Eurosport you do what you want but I say to them if there is an official manufacturer then it is finished for me.
"I represent the brand and Peugeot is not there to spend the money to say congratulation to Skoda because I know I can't win at the end. I'm not interested. It's impossible. Peugeot UK with Kronos and Peugeot Sport we do only one test a month and Skoda is testing all the time."
Quesnel added that Peugeot driver Bruno Magalhaes' win on the recent Azores Rally has not altered his decision.
"The result in the Azores does not make a difference. I want the thing to be clear. I don't like to lose but if everybody is on the same line at the beginning I don't have any problem.
"Anyway the official programme for Peugeot is endurance. S2000 is only for Peugeot UK, Peugeot Belgium. If you want to race against a factory it's impossible. We can do it with an official car with factory drivers but we are not there for that."