Biffle ends Roush drought at Pocono
| | |
| --- | --- |
| By Diego Mejia | Monday, August 2nd 2010, 00:37 GMT |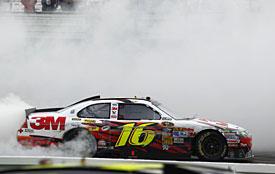 Greg Biffle gave a recovering Jack Roush, Ford and himself their first Sprint Cup win of the season in a long and eventful race at Pocono Raceway.
The Roush Fenway racer and his team gambled on a two-tyre final pitstop which placed them second for the last restart.
However, soon after the restart Biffle was able to overtake leader Sam Hornish Jr, who had jumped into the lead at the final caution after staying out and hoping for the rain to continue and end the race early.
After passing Hornish, Biffle took off and pulled away into the distance to take his first Sprint Cup win since 2008. But despite it looking easy for him in the closing laps, Biffle admitted he had to work his engine to the limit, downshifting to third gear for Turn 1, while most other ran in fourth gear all the way around, as is normally the case at the 2.5-mile oval.
He also had to fight back from brushing the wall early on, taking two tyres on his first stop under caution to try to recover from a poor start.
Biffle dedicated his victory to his boss Jack Roush, who continues to recover from a second surgery for facial injuries suffered in a plane crash last Tuesday. The win was not just the first for the team this year, but also for Ford, who last won at NASCAR's top level at Talladega last autumn.
"It was mostly engine," said a jubilant Biffle. "This engine ran so good. I abused the crap out of it all day and this one is for Jack [Roush]... we've been really tough and answered all the questions about the Ford and there it is. Ford is running really good. I just wish I would have won last week, too."
The last stop, which proved crucial to the outcome of the race, came after the race had been halted for a total of 45 minutes due to a serious accident involving Kurt Busch and Elliott Sadler, both crashing hard against the inside barriers after reigning champion Jimmie Johnson tapped the Penske Dodge into a spin on the backstretch.
The race had to be red-flagged due to the severity of the incident, with repairs to the barriers and rain further delaying the last restart.
Polesitter Tony Stewart had a good final stop and took the green flag for the last time as the first car on four new tyres. He charged all the way up to second but by the time he had moved up, Biffle was already too far ahead and just a few laps remained.
"This is what we've been looking for," said Stewart. "We've got to just keep plugging away. We're not all the way there but we're gaining on it and that's encouraging. This is the time of the year when you want to be building momentum and not losing it. So, I'm pretty happy with this weekend."
Rounding out a great day for Roush, Carl Edwards was third, while points leader Kevin Harvick was fourth for Richard Childress Racing, followed by Denny Hamlin, who led some laps but did not run as strongly in the final portion of the race.
Hendrick Motorsports team-mates Jeff Gordon and Johnson led more than half the race between them, Gordon looking like he was closing in on victory until his stop for four tyres at the final caution.
Gordon was unable to recover as well as Stewart in the end and finished sixth, while Johnson struggled in the second half of the race after dominating for most of the first 100 laps, crossing the line in 10th.
"You are a sitting duck when you are first and you look at the guys you are racing," said Gordon about his final stop. "If you know if nine guys are going to take two tyres, then it is an easy call to take two.
"But, when you don't know and the guys around you are going to take four, then you take four. We just weren't really good to drive up through there like Tony [Stewart] was."
Juan Pablo Montoya was running second behind Gordon before the final stop, but again his strategy did not play out as expected and he was unable to recover from a four-tyre change.
The top 12 in the standings remain unchanged with only five races to go before the Chase.
Pos  Driver              Car        Laps
 1.  Greg Biffle         Ford        200
 2.  Tony Stewart        Chevrolet   200
 3.  Carl Edwards        Ford        200
 4.  Kevin Harvick       Chevrolet   200
 5.  Denny Hamlin        Toyota      200
 6.  Jeff Gordon         Chevrolet   200
 7.  Mark Martin         Chevrolet   200
 8.  Jeff Burton         Chevrolet   200
 9.  Martin Truex Jr     Toyota      200
10.  Jimmie Johnson      Chevrolet   200
11.  Sam Hornish Jr      Dodge       200
12.  Ryan Newman         Chevrolet   200
13.  Paul Menard         Ford        200
14.  David Ragan         Ford        200
15.  Clint Bowyer        Chevrolet   200
16.  Juan Montoya        Chevrolet   200
17.  David Reutimann     Toyota      200
18.  Matt Kenseth        Ford        200
19.  Kasey Kahne         Ford        200
20.  Brad Keselowski     Dodge       200
21.  Regan Smith         Chevrolet   200
22.  Jamie McMurray      Chevrolet   200
23.  Kyle Busch          Toyota      200
24.  A.J. Allmendinger   Ford        200
25.  Joey Logano         Toyota      200
26.  Scott Speed         Toyota      200
27.  Dale Earnhardt Jr   Chevrolet   199
28.  Bobby Labonte       Chevrolet   199
29.  Travis Kvapil       Ford        199
30.  David Gilliland     Ford        198
31.  Kevin Conway        Ford        198
32.  Reed Sorenson       Toyota      171
33.  Kurt Busch          Dodge       164
34.  Elliott Sadler      Ford        163
35.  P.J. Jones          Toyota       63
36.  Casey Mears         Chevrolet    62
37.  Todd Bodine         Toyota       49
38.  J.J. Yeley          Dodge        48
39.  Marcos Ambrose      Toyota       46
40.  Joe Nemechek        Toyota       42
41.  Landon Cassill      Chevrolet    32
42.  Dave Blaney         Toyota       24
43.  Michael McDowell    Toyota       23