Hamilton denies title hopes are fading
| | |
| --- | --- |
| By Jonathan Noble | Sunday, August 1st 2010, 08:12 GMT |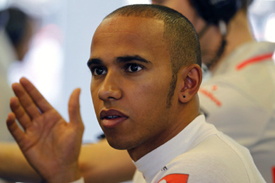 Lewis Hamilton is confident his world championship hopes are not fading away on the back of continued frustrations for his McLaren team.

The world championship leader has seen Red Bull Racing and Ferrari enjoy a speed advantage for the last few races - and has found himself almost two seconds adrift of pole position at this weekend's Hungarian Grand Prix.

But although well aware his situation is far from ideal, he is upbeat that McLaren can fight back – and will get a boost whatever the FIA does on the flexi-wing controversy.

"I don't feel it [the championship] falling away from us," said Hamilton. "If we continue for the rest of the season and we are more than one second behind, then inevitably it is going to be very hard for us to win the championship.

"But I think Martin [Whitmarsh, team principal] has made it clear that something will be sorted or made clear [on front wings], so we can either change our approach or someone else changes their approach."

Hamilton says his desire to succeed now is just as strong as it was earlier in the season – and is unmoved by news that a number of bookmakers have now installed Sebastian Vettel as favourite for the title.

"My determination is as high as it could be," he said. "I am pushing as hard as I can with the team - it is the same for me and Martin and everyone in the team. We want to win the championship, it doesn't matter if a bookie says we won't or someone else says we will. We will do everything we can and everything in our power to win the championship.

"You don't really think about the championship until the moment when it really, really matters - which is when you are just about to win or just about to lose it. So for me I take it race by race and try to get as many points in the races. That has always been my approach, I don't think of critical results or how that affects the championship."

Team-mate Jenson Button also reckons his title challenge will not be too badly dented in Hungary, despite a disappointing qualifying session.

"I've made it difficult again in qualifying," he said. "Starting 11th, it is never easy when you are that far back, but there is still everything to play for.

"The first four cars seem to have very good pace, but anything can happen as we have seen many times this season - and we have performed as a team very well, especially on a Sunday.

"I think we can still have a good race. It is tough starting so far behind Lewis, he is the guy leading the championship from myself, and finishing behind Lewis would hurt my championship hopes at this point of the season, that is obvious.

"So I am going to try and do as much as I can to move forward. I know we have a good balance around here with the car in race trim, so I am happy with that. I have new tyres, whether we start on the soft or the hard, and I am the first car to be in that position on the grid, so it's not so bad."