Montoya moves on from Indy loss
| | |
| --- | --- |
| By Diego Mejia | Saturday, July 31st 2010, 20:24 GMT |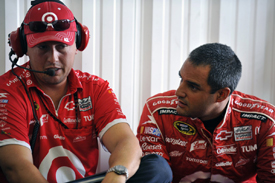 Juan Pablo Montoya said he quickly left his frustration behind last weekend after dominating the Brickyard 400 before a strategy decision on his final pitstop put him out of contention for victory.
For the second year in a row the Colombian led the most laps at Indianapolis and seemed on the verge of making history as the first driver to win the Indianapolis 500 and the Brickyard 400.
After a speeding penalty cost him the win in 2009, this year his team's strategy on the final stop did not turn out as expected, while his team-mate Jamie McMurray went on take victory for Earnhardt Ganassi Racing, earning his team owner Chip Ganassi America's triple crown following this year's Daytona 500 and Indy 500 wins.
Montoya left Indy without speaking to the media, but at Pocono he showed he had kept some momentum as he qualified second for Sunday's race. The 2000 Indianapolis 500 winner said it took him "about 15 minutes" to get over the disappointment of losing a race that looked to be his for most of the distance and praised his team for putting him in such a strong position at Indy.
"As a team we win together, we lose together and actually in a crazy way with myself hitting the fence helped [McMurray] win the race," said Montoya. "It's one of those deals where you never really know who you're working for. It benefited the team.
"It's one of those deals where I think if I would have taken two tyres, everybody else would have taken four and we probably would have got beaten anyway. I don't know... I'd rather have 20 of those than run 15th every weekend and have good finishes."
Montoya's crew chief Brian Pattie was devastated following last Sunday's race and took the blame for the decision that probably cost his team the race. Pattie called for a full set of Goodyears to be bolted onto Montoya's Chevrolet for the final 20 laps of the race but McMurray took only two tyres as did other five cars, placing Montoya back in seventh for the restart with 18 laps remaining.
Once in dirty air, Montoya struggled with the handling and ended up crashing out a few laps later. He said that despite his own frustration at losing the race, he tried to bring some consolation to the man calling the shots for his team from the pits.
"I sent him a text, and said 'Dude, we're in this together. You gave me an awesome car. If it wasn't for you guys we wouldn't be in this position so don't worry about it. We'll move on, there's another one next Sunday. One of these days that race will go into our hands,'" said Montoya.
"It sucks that we've been so fast three years in a row with one I blew, the other one was a call that wasn't ideal. You know last time I screwed up there Brian didn't say anything to me. He said, 'Don't worry about it.' At the same time, do I gain anything by getting mad? No.
"It sucks that in traffic we couldn't do anything and I was actually pretty loose getting into the corners by myself and when the #99 [Carl Edwards] dive-bumped me, I kind of turned right a little when I came back. As soon as I turned right, I knew I wasn't going to come out of that corner pointing the right way."
Montoya believes that now that he is out of contention for a Chase berth this season, his team can afford to take gambles and learn from those experiences. Despite not having won a race in an oval in more than three years in the NASCAR Sprint Cup series, the Colombian is confident that his time will come.
"Something that is nice is by not being in a position of making the Chase, I think as a team we're going to try a lot of different things and make sure and use what happened last week as a learning experience," said Montoya.
"Like knowing when to take two tyres. Maybe not the right call, but it happens. At Phoenix for example, we were running top three all day, five guys took two tyres and neither of the three guys won. We were half a lap ahead of the field and somebody else won. You just have to learn when to take two tyres.
"But to win some, you have to give some away and I don't think we have given ourselves enough opportunity to win races. Some day it will come."
On Sunday Montoya will take the green flag from the front row at Pocono, beside former Sprint Cup champion Tony Stewart.