BMW dominating Spa 24 Hours
| | |
| --- | --- |
| By Kevin Turner | Saturday, July 31st 2010, 20:18 GMT |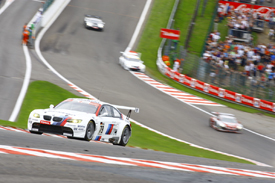 BMW is in a dominant position as this year's Spa 24 Hours approaches one-quarter distance.
Two of the leading Porsche teams, BMS and IMSA, changed onto wets during rain showers in the fifth hour. It helped them close the gap on the BMWs, which had pulled away in the dry conditions, but as the track dried again the slick-shod M3s reasserted their advantage at the front.
The #79 BMW, now being driven by Dirk Adorf, currently holds a lead of just a few seconds over its sister car, which gained ground at the last pitstops.
Third is held by the #13 Prospeed Porsche, which also stayed on slicks during the rain and is due a stop soon. It is over two minutes behind the leaders.
The #23 Porsche, currently being driven by Jorg Bergmeister, is fourth, and is set to regain third when Prospeed stops.
The only competitive Ferrari, the #2 AF Corse machine that lost time early on, is now fifth, a lap down, ahead of the #16 IMSA Porsche.
GT3 is still led by the #50 Phoenix Audi of Anthony Kumpen/Marcel Fassler/Lucas Luhr/Mike Rockenfeller, in seventh overall.