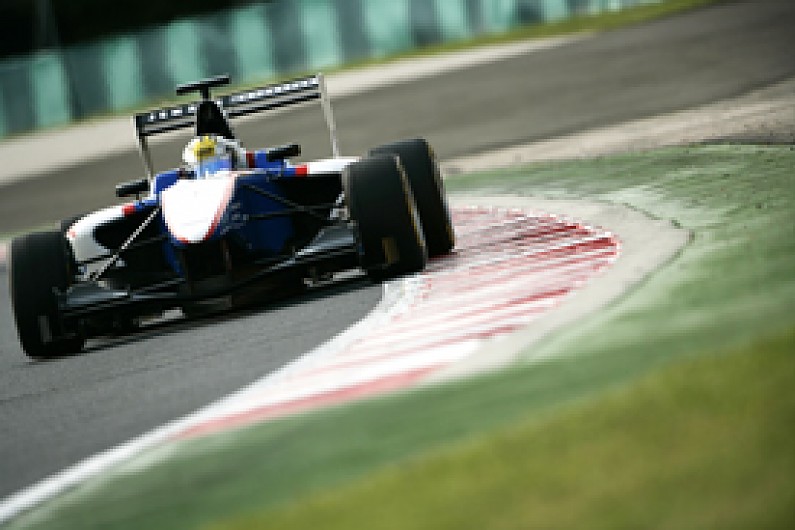 Jenzer Motorsport's Nico Muller took pole for today's GP3 Series race at the Hungaroring after topping an extraordinary qualifying session this morning.
On a track washed clean by overnight rain, Muller set a best lap of 1m36.991s, and series leader Esteban Gutierrez (ART) responded by posting an identical time, with Muller getting the nod by virtue of having set the time first.
Tech 1's Stefano Coletti continued his good form from the previous round in Germany by going third quickest ahead of Status' Robert Wickens; the top four drivers all being covered by 0.07 seconds.
Four drivers will be affected by grid penalties, with Carlin's Dean Smith set to lose one place for taking the chequered flag twice in yesterday's practice session, dropping him from fifth to sixth.
Status' Ivan Lukashevich will be docked three places for ignoring yellow flags in practice, while Tech 1's Doru Sechelariu and Mucke's Tobias Hegewald, who qualified sixth and eighth respectively, will each lose 10 places for causing accidents in the previous round at Hockenheim.
Pos  Driver                  Team       Time       Gap
 1.  Nico Muller             Jenzer     1m36.991s
 2.  Esteban Gutierrez       ART        1m36.991s  + 0.000s
 3.  Stefano Coletti         Tech 1     1m37.036s  + 0.045s
 4.  Robert Wickens          Status     1m37.066s  + 0.075s
 5.  Dean Smith              Carlin     1m37.320s  + 0.329s
 6.  Doru Sechelariu         Tech 1     1m37.370s  + 0.379s
 7.  Daniel Morad            Status     1m37.454s  + 0.463s
 8.  Tobias Hegewald         RSC Mucke  1m37.456s  + 0.465s
 9.  Antonio Felix da Costa  Carlin     1m37.459s  + 0.468s
10.  Mirko Bortolotti        Addax      1m37.525s  + 0.534s
11.  Felipe Guimaraes        Addax      1m37.632s  + 0.641s
12.  Adrian Quaife-Hobbs     Manor      1m37.639s  + 0.648s
13.  Alexander Rossi         ART        1m37.690s  + 0.699s
14.  Marco Barba             Jenzer     1m37.694s  + 0.703s
15.  Nigel Melker            RSC Mucke  1m37.733s  + 0.742s
16.  Renger van der Zande    RSC Mucke  1m37.777s  + 0.786s
17.  Josef Newgarden         Carlin     1m37.785s  + 0.794s
18.  Pal Varhaug             Jenzer     1m37.802s  + 0.811s
19.  Michael Christensen     MW Arden   1m37.869s  + 0.878s
20.  Roberto Merhi           Atech CRS  1m37.952s  + 0.961s
21.  Miki Monras             MW Arden   1m37.982s  + 0.991s
22.  Pablo Sanchez Lopez     Addax      1m38.196s  + 1.205s
23.  Oliver Oakes            Atech CRS  1m38.342s  + 1.351s
24.  Adrien Tambay           Manor      1m38.359s  + 1.368s
25.  Leonardo Cordeiro       MW Arden   1m38.375s  + 1.384s
26.  Pedro Nunes             ART        1m38.406s  + 1.415s
27.  Ivan Lukashevich        Status     1m38.448s  + 1.457s
28.  Rio Haryanto            Manor      1m38.909s  + 1.918s
29.  Vittorio Ghirelli       Atech CRS  1m39.041s  + 2.050s