Ratel expects BMW in GT1 in 2011
| | |
| --- | --- |
| By Matt Beer | Saturday, July 31st 2010, 07:18 GMT |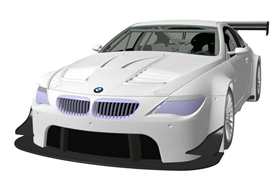 BMW is set to join the GT1 World Championship in 2011, series boss Stephane Ratel has announced.
Aurora Racing Designs, the team behind the BMW presence in GT3, is developing a BMW-Alpina B6 that would be suitable for the new GT1 championship's regulations, and Ratel confirmed that it was a prime target for next season.
"The cars that we have homologated are here for two years but we are working on adding new brands to the series," Ratel said. "There is one project that is very interesting, which is the BMW Alpina."
He pointed out that there was a precedent for privately-developed cars in the series, with the Ford and Lamborghini projects created by the Matech and Reiter teams rather than the manufacturers themselves.
"It is a private project but the car that has won two races, the Matech Ford GT is also a completely private project, as is the Lamborghini Murcielago," said Ratel.
GT1 currently features six brands in the 24-car field for its inaugural championship, with Nissan, Corvette, Maserati and Aston Martin alongside Ford and Lamborghini.