Q & A: Latvala on leading at home
| | |
| --- | --- |
| By David Evans | Friday, July 30th 2010, 19:33 GMT |
Rally Finland leader - and local hero - Jari-Matti Latvala talks to AUTOSPORT about his day aboard a Ford Focus RS WRC.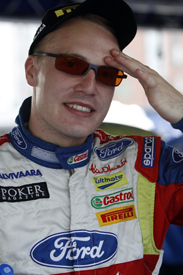 Q. How does it feel, you're leading Rally Finland at the end of day one?
Jari-Matti Latvala: It's an amazing feeling. We were in the press conference at the end of the day and it was just incredible to see how many people were out there watching the conference – so many fans I can't believe it. And also the people in the stages. It's a very special feeling. And also, at the moment, I feel very relaxed which is good.
Q. Is that relaxed feeling translating into your driving?
JML: I was a bit nervous yesterday evening and then this morning I had this massive jump the first time through Urria and hurt my back. But when the physio helped my back and took the pressure from my back, I was able to relax and after that I started to get the flow for the driving.
Q. And what about tomorrow's stages?
JML: I like the first two, they are very challenging, but I like them. Then there are good stages, one of the next three has not been so good for me – I hope it's better this year. I haven't made a mistake in that stage or anything like that, it's just that my speed hasn't been so good there. It's like one stage this morning, the second one, it wasn't going so well, but in the afternoon it was fine.
Q. You have talked before about Kolonkulma and Vaarinmaja, the first two tomorrow morning, what is it about them – could they decide the rally?
JML: Everybody has less experience. The first one was in 1,000 Lakes [Rally Finland] last year and the second one was used in 2008, but then had a new 10-kilometre section added last year. They are more technical, more tricky. You could see some differences over there, but I don't think it's decided after those. Probably, it's so close, I think it can go on until the last stage, like in New Zealand.
Q. Who do you fear the most?
JML: I fear Petter [Solberg], but in a way I fear [Sebastien] Ogier and [Sebastien] Loeb because I was not so sure they were suffering with the road position. And I don't know what can be their speed from those positions. What happened in New Zealand [when Loeb set fastest time on every stage on day two from a position further back on the road] is what I'm afraid of. I hope that's not the case, I hope they don't have the same speed as New Zealand.
Q. Presumably you wouldn't mind a bit of rain tonight?
JML: Yes! That's what I hope. That would make the position on the road better for me, it would bind the loose gravel together a little.