Villeneuve adds Glen Nationwide race
| | |
| --- | --- |
| By Diego Mejia | Friday, July 30th 2010, 05:51 GMT |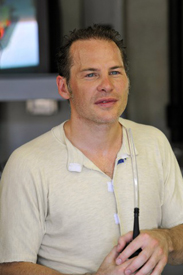 Jacques Villeneuve will race in the NASCAR Nationwide Series for the second time this season next week, driving for Braun Racing at Watkins Glen.
The former Formula 1 world champion has added a second road course race to his limited schedule in NASCAR's second-tier series, following a successful first outing at Elkhart Lake, where he was a contender for victory until fuel pressure issues hampered him in the closing laps.
Villeneuve has had three Nationwide outings with Braun Racing over the past three years, leading laps in all of them and taking a fourth place last year in Montreal, where he is set to race next following his maiden Watkins Glen outing.
"I was very disappointed with our end result at Road America," said the Canadian. "We had such a great car and a fantastic team and to not get the win was frustrating. It was difficult to think we'd have to wait until our return to Montreal to try again.
"I am very much looking forward to the opportunity to race at Watkins Glen for my first time with this talented group. I think it will be a lot of fun and I hope to end this race in victory lane."
Last weekend the former Indianapolis 500 winner returned to the venue of one his most popular victories, competing in the Brickyard 400 and marking his return to the Sprint Cup series. Despite being more than two years since he last drove a Cup car, he was able to make the field, although he would later struggle during the race.
Braun Racing expects to make the most of Villeneuve's proven road course speed and experience, and hopes to pick up where they left off at Elkhart Lake last month.
"Jacques is the type of driver that any crew chief could hope to have behind the wheel, especially at a road course," said Villeneuve's crew chief, Trent Owens. "Not only is he a very talented driver, but his ability to feel and describe the car's balance is incredible. Jacques is a great asset to our team and its road course programme and we are very excited to have him drive our car at Watkins Glen."
Although Braun Racing has competed in five Sprint Cup races this season, the team does not plan to enter the series' Watkins Glen event.