Alonso: Germany win a 'great feeling'
| | |
| --- | --- |
| By Jonathan Noble | Tuesday, July 27th 2010, 16:35 GMT |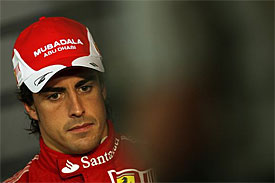 Fernando Alonso remains unmoved by the furore surrounding Ferrari's illegal use of team orders in the German Grand Prix - saying he still has a 'great feeling' from his victory in the event.
Although Ferrari was fined $100,000 and faces the possibility of further sanctions from the FIA for breaking the regulations in telling Felipe Massa to sacrifice the race lead for Alonso, the team remains unrepentant about what happened.
And Alonso said on Tuesday that his emotions after the weekend are only for the great job that Ferrari did in securing its first victory since the season-opening Bahrain Grand Prix.
"All wins are special," wrote Alonso on Ferrari's official website, as he made no reference to the team orders issue.
"Winning is a great feeling and that was the case in Hockenheim, especially when I think of the huge workload undertaken by everyone at Maranello to achieve this fantastic one-two finish.
"No one ever gave up and I know how pleased they were to see two Ferraris cross the line ahead of all our rivals. For over a month now we have been saying that we had to get back to winning at least once before the summer break and finally, we did it.
"We did not have much luck in some races and, because of unusual incidents, we did not pick up the points we deserved. There was a slight feeling of frustration with this lack of results, but at last in Germany, for once we had a normal race on a weekend when he had no problems whatsoever and the result was there for all to see."
Alonso says the result in Hockenheim has left him even more adamant that the team must lift its game in the second half of the campaign.
"The win does not change my approach to the rest of the season," he said. "We knew full before Hockenheim that our car was much more competitive and that was what made me so confident. Now we must continue in this direction, starting this coming weekend in Budapest."
Team-mate Massa is equally bullish about delivering a strong result again at this weekend's Hungarian Grand Prix.
"In Germany, we produced a great team result and if people were asking why Ferrari kept saying for several weeks before that the F10 had improved a lot, they got the answer in Hockenheim," he said.
"But that does not mean we are sitting on our hands, because there will be even more updates coming this weekend and the result last weekend is motivation for everyone in the team to keep pushing even harder to keep the momentum going, improving race by race.
"There are other reasons to be optimistic about this weekend, including the fact that Bridgestone is bringing its Super-Soft and Medium tyres that have always suited the F10 very well, so maybe we can have another very competitive race.
"Throughout the year, we have seen that various teams' performance has been very much related to the track characteristics, with the exception of Red Bull, who have been competitive everywhere. So let's wait and see how we go at the Hungaroring.
"Personally, I have never had a good result at this circuit, but that has simply been down to circumstances, as I do enjoying driving here a lot and, in 2008 for example, the last time I actually raced here, I led for sixty laps until my engine failed. So all in all, there are many reasons why I am really looking forward to going back to Budapest in a couple of days time."
Massa also admits that the emotions heading back to Hungary will be special, one year on from the accident that left him with serious injuries.
"Going back to Budapest will be a very special weekend for me, for reasons which you can all appreciate as it was there, just over a year ago, that I was seriously injured when a spring from another car hit me on the head during Q2 on Saturday afternoon," he said.
"My first meeting when I arrive at the Hungaroring circuit will be with all the marshals and medical staff who did such a very good job of carefully getting me out of the cockpit. I want to thank these people, with whom I now feel a special bond.
"I had to stay in hospital for a week after the accident and I got to know the staff, who all treated me so well and one unusual result of the whole unfortunate episode is that I know I now have a lot more fans in Hungary."