McLaren hopeful of stronger weekend
| | |
| --- | --- |
| By Pablo Elizalde | Tuesday, July 27th 2010, 10:13 GMT |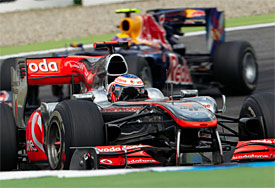 McLaren boss Martin Whitmarsh is hopeful that his team will enjoy a stronger outing at this weekend's Hungarian Grand Prix following a difficult race in Germany.
Although the Woking outfit decided to keep its blow diffuser for the Hockenheim weekend, the team was still far from the pace of Ferrari and Red Bull.
Lewis Hamilton finished a distant fourth, with Jenson Button in fifth position.
Although Whitmarsh concedes he is under no illusions for this weekend, he does believe the nature of the circuit should allow McLaren to be stronger.
"While we're under no illusions that our pace relative to our rivals was lacking at Hockenheim, the MP4-25 should perform better in a more dedicated high-downforce configuration," said Whitmarsh.
"More encouragingly, we've now got one race with the blown diffuser under our belts, and this has already given us lots of data with which to take the concept forwards.
He added: "We have all worked incredibly hard to cement our positions at the top of both world championships - not least in the past four weeks, when we've seen unbelievable dedication and commitment as we've strived to update MP4-25.
"For all of us in Woking, it would be fantastic to go into that summer break with a strong result to ensure we maintain our motivation and commitment as we enter the crucial final third of the season."
Button is also more confident about enjoying a stronger weekend, especially thanks to the increased knowledge about the new floor.
"After Hockenheim, I think we go to Budapest feeling more optimistic about our pace – the team has traditionally gone well at the track, and we feel we have a high-downforce configuration that should be well-suited to the circuit," he said.
"We're learning more and more about the blown floor after every session, and I feel like we got some very useful data from Sunday's race in Germany.
"Now it's all about maximising our package and hopefully securing a strong result before the summer break – that would be a massive positive for everybody on the team."