Q & A: Horner ahead of Hockenheim
| | |
| --- | --- |
| By Jonathan Noble | Sunday, July 25th 2010, 08:56 GMT |
Q. The celebrations after qualifying seemed to be one of the more joyous of the season. Why did this pole position mean so much for Red Bull Racing?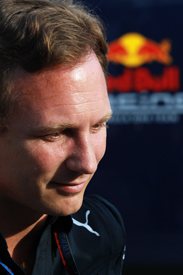 Christian Horner: Just because it was so tight. It was so close. Ferrari looked strong on Friday, and Fernando Alonso particularly. He seemed to have us covered in the first two qualifying sessions and I said on the pit wall that it was going to take something special to pull this one off today because I think we were about two and a half tenths down in Q2.

Seb pulled out an unbelievable final sector of the last lap to take the pole position by the smallest of margins. It was unfortunate that Mark [Webber] got hooked up on the kerb on the way in to Turn 1, and that he did not get a clean run on his last run, because I think we could have had both cars up there today. But it was a fantastic result for the team and Sebastian at his home grand prix. It sets up a really interesting race.

Q. Was it important for the team to deliver such a strong performance, and be happy about it, after all that happened at Silverstone?
CH: There has never been any tension in the garage at all. We have a fantastic group of guys and girls working in the team. This result is a testimony to all their hard work - as they were at the track until 2am on Saturday morning working on the cars, as they have done a lot of times this year. Efforts like that will pay dividends at the end of the day.

Q. Do you feel the championship fight is now really coming alive - with Ferrari, McLaren and Red Bull Racing all knuckling down for a big fight?
CH: You've been asking me that since Australia!

Q. But it seems the tension is rising now, and as soon as one of you appears to have made a breakthrough the form book changes again?
CH: As we have seen, different circuits seem to flatter and expose different strengths and weaknesses in each of the front running packages. The consistent thing we have managed to do is achieve 10 pole positions out of 11 races so far, which is a phenomenal record over a single lap – and it cannot be bettered now in the remaining races.
But Ferrari have looked strong, they have looked like our closest challenger in pace in the last two races, and they have just had a lot of bad luck. They have demonstrated a very strong team performance this weekend and I am sure we will have our hands full keeping them behind us, but that is what we will be aiming to do.

Q. The remainder of the calendar takes place on a variety of track types. There will be events that favour Ferrari, some you and some McLaren. Will it become even more important to deliver the results on the days when you are ahead?
CH: Qualifying always play a key role. We have been unlucky in the last couple of races not to score more points with both cars. The faintest of touches at Silverstone obviously cost Sebastian quite a few points. Mark's first lap and incident in Valencia obviously cost quite a few points. So it is important here that we do score well and do the best job we can, and hopefully convert the pole position into a race win.

Q. It is a concern or a relief that Ferrari appears back in the title hunt?
CH: I think it will spread the points around a bit more, so it an interesting dynamic. I have been saying all year that you must not underestimate Ferrari. They are a team with such a track record in F1 – and a strong driver line-up – that you would be a fool to discount them.

Q. So is the key thing bagging points as opposed to going all out for wins?
CH: I think we are now approaching the business end of the championship, and it is important we convert strong qualifying into points on a Sunday. At this point we have won 50 per cent of the races which, under any circumstances, is a very healthy start to the year. But the McLaren drivers have done an excellent job in achieving consistent race finishes and that is why we have won more races and that is why they are ahead in the points.
Here, it is important that we convert the qualifying into good points. It sets up a fascinating race and one that will be far from straightforward.

Q. You've got your blown diffuser working properly and have had it since the beginning of the season. Do you think it will take time for McLaren to get to grip with its design?
CH: Ferrari seems to have done a pretty good job. But as always there is never a silver bullet. One can say the same about our F-duct for example, and it is always a combination of factors that has to come together to make a quick car. The blown diffuser is perhaps over-rated in terms of its contribution but it is like fashion: things come in and out of fashion.