Power scores another Edmonton pole
| | |
| --- | --- |
| By Matt Beer | Saturday, July 24th 2010, 22:50 GMT |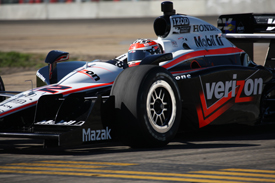 IndyCar championship leader Will Power set himself up for a repeat of his dominant 2009 Edmonton victory by topping qualifying at the Canadian airport track.
There was no stopping the Australian in the session, which remained dry despite storm warnings and some extremely foreboding black clouds over the circuit. Power was fastest in his group stage, quickest again in the top 12 segment, and then only very briefly headed by team-mate Helio Castroneves in the Fast Six pole battle.
Castroenves retained second, 0.0764 seconds behind Power. But Penske could not repeat the one-two-three formation it displayed in two of the three practice sessions, as Ryan Briscoe was slightly off his team-mates' pace and will start fifth behind Ganassi duo Scott Dixon and Dario Franchitti.
KV's EJ Viso was the only man able to join the Penske/Ganassi group in the Fast Six, but could not get among them in the crucial session, leaving him sixth.
Simona de Silvestro was the star of the session, topping her group and then taking a career-best seventh on the grid. Although the draws for the group stages were slightly uneven - with all three Penske drivers and Franchitti in a ferociously tough group one - she still had to beat Dixon and three Andretti cars in group two, and once into the top 12 session, de Silvestro only missed the pole shoot-out by a tenth of a second.
None of the Andretti Autosport drivers reached the top six, with Ryan Hunter-Reay the best of the quartet in eighth. Marco Andretti and Danica Patrick both failed to get beyond their groups, while Tony Kanaan will start on the back row having gone off and damaged his car before he could set a time.
Last week's Toronto polesitter Justin Wilson was only ninth this time, three places ahead of his Dreyer & Reinbold team-mate Tomas Scheckter. Raphael Matos (De Ferran Dragon) and Hideki Mutoh, the sole Newman/Haas driver again with Edmonton not on Graham Rahal's limited schedule, split them in 10th and 11th.
The competitiveness of group one meant several big names missed out on the top 12. KV's Takuma Sato and Paul Tracy both looked set to progress at times, but were pushed back outside the top six, so will start 13th and 15th respectively. Conquest rookie Mario Romancini had the same experience - getting among the Penske drivers for a while in group one before eventually tumbling back to ninth in the group, 17th on the overall grid.
Pos  Driver               Team               Time        Session
 1.  Will Power           Penske             1m00.7126s  Fast six
 2.  Helio Castroneves    Penske             1m00.7890s  Fast six
 3.  Scott Dixon          Ganassi            1m01.2394s  Fast six
 4.  Dario Franchitti     Ganassi            1m01.2481s  Fast six
 5.  Ryan Briscoe         Penske             1m01.3798s  Fast six
 6.  EJ Viso              KV                 1m01.6122s  Fast six
 7.  Simona de Silvestro  HVM                1m01.5437s  Top 12
 8.  Ryan Hunter-Reay     Andretti           1m01.5596s  Top 12
 9.  Justin Wilson        Dreyer & Reinbold  1m01.5887s  Top 12
10.  Raphael Matos        De Ferran Dragon   1m01.7915s  Top 12
11.  Hideki Mutoh         Newman/Haas        1m02.1935s  Top 12
12.  Tomas Scheckter      Dreyer & Reinbold  1m02.8751s  Top 12
13.  Takuma Sato          KV                 1m01.9181s  Group 1
14.  Mario Moraes         KV                 1m02.1323s  Group 2
15.  Paul Tracy           KV                 1m02.3263s  Group 1
16.  Marco Andretti       Andretti           1m02.1465s  Group 2
17.  Mario Romancini      Conquest           1m02.4191s  Group 1
18.  Alex Lloyd           Dale Coyne         1m02.2203s  Group 2
19.  Alex Tagliani        Fazzt              1m02.5240s  Group 1
20.  Bertrand Baguette    Conquest           1m02.5193s  Group 2
21.  Danica Patrick       Andretti           1m02.5795s  Group 1
22.  Dan Wheldon          Panther            1m02.7396s  Group 2
23.  Vitor Meira          AJ Foyt            1m02.7511s  Group 1
24.  Tony Kanaan          Andretti                       Group 2
25.  Milka Duno           Dale Coyne                     Group 1