Penske blitzes final Edmonton session
| | |
| --- | --- |
| By Matt Beer | Saturday, July 24th 2010, 17:21 GMT |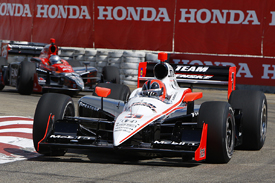 Helio Castroneves led the way in another Penske clean sweep in final free practice session before IndyCar qualifying at Edmonton.
The Brazilian took first place ahead of championship leader and Friday pacesetter Will Power, who he had deposed with a 1m01.9802s lap just over halfway through the morning.
Both improved during a final minute burst following a late yellow, but Castroneves was able to maintain his lead with a time of 1m01.6642s, ahead of Power and Penske's third driver Ryan Briscoe as the team filled the top three positions for a second straight session.
Hideki Mutoh (Newman/Haas) bounced back from a highly disappointing Friday to set the fourth-fastest time, ahead of Ganassi's Scott Dixon and another good run for Paul Tracy (KV) in sixth. Justin Wilson repeated his Friday seventh place for Dreyer & Reinbold.
Andretti Autosport duo Tony Kanaan and Marco Andretti were next up, with rookies Takuma Sato (KV) and Mario Romancini (Conquest) ending up 10th and 11th - but having both been as high as second earlier.
The session saw plenty of spins, but no damage as drivers made the most of the wide airport expanses. Dixon, Wilson and Foyt driver Vitor Meira all got away with high-speed rotations without interrupting the session. But KV pair Sato and EJ Viso both prompted yellows - Sato twice stalling after spins, and Viso nosing into the Turn 7 tyres (without any obvious damage to his car).
There was also a stoppage when the entire Canadian contingent - Alex Tagliani and Tracy - had unrelated spins at Turn 1 without a few seconds of each other. Tracy's incident saw him only just miss Bertrand Baguette as the Conquest car came out of the pits.
Pos  Driver               Team               Time        Gap
 1.  Helio Castroneves    Penske             1m01.6642s
 2.  Will Power           Penske             1m01.7342s  + 0.0699s
 3.  Ryan Briscoe         Penske             1m01.9521s  + 0.2878s
 4.  Hideki Mutoh         Newman/Haas        1m02.2237s  + 0.5594s
 5.  Scott Dixon          Ganassi            1m02.2413s  + 0.5771s
 6.  Paul Tracy           KV                 1m02.2736s  + 0.6094s
 7.  Justin Wilson        Dreyer & Reinbold  1m02.3631s  + 0.6988s
 8.  Tony Kanaan          Andretti           1m02.3943s  + 0.7301s
 9.  Marco Andretti       Andretti           1m02.3992s  + 0.7350s
10.  Takuma Sato          KV                 1m02.4757s  + 0.8114s
11.  Mario Romancini      Conquest           1m02.4951s  + 0.8308s
12.  Ryan Hunter-Reay     Andretti           1m02.5061s  + 0.8419s
13.  Dario Franchitti     Ganassi            1m02.5773s  + 0.9130s
14.  Raphael Matos        De Ferran Dragon   1m02.6706s  + 1.0063s
15.  Mario Moraes         KV                 1m02.7890s  + 1.1247s
16.  EJ Viso              KV                 1m02.8706s  + 1.2064s
17.  Simona de Silvestro  HVM                1m02.9055s  + 1.2412s
18.  Alex Lloyd           Dale Coyne         1m02.9634s  + 1.2991s
19.  Dan Wheldon          Panther            1m03.0208s  + 1.3565s
20.  Bertrand Baguette    Conquest           1m03.0544s  + 1.3901s
21.  Tomas Scheckter      Dreyer & Reinbold  1m03.1225s  + 1.4583s
22.  Danica Patrick       Andretti           1m03.2518s  + 1.5876s
23.  Vitor Meira          AJ Foyt            1m03.3344s  + 1.6702s
24.  Alex Tagliani        Fazzt              1m03.3539s  + 1.6897s
25.  Milka Duno           Dale Coyne         1m07.9345s  + 6.2702s