Brabham flies to superb pole in wet
| | |
| --- | --- |
| By Matt Beer | Friday, July 23rd 2010, 21:05 GMT |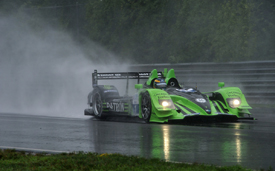 David Brabham took the Highcroft HPD to a stunning American Le Mans Series pole position in very wet conditions at Lime Rock.
Brabham was 2.5 seconds than the rest of the LMP1 field on their first flying laps, but CytoSport Porsche driver Klaus Graf kept closing in.
Every time Graf got within sight - even trimming the gap to 0.003s at one stage - Brabham managed to inch further ahead.
Then as conditions improved very slightly in the final minutes, Brabham raised the bar with two laps in the low 58s - 1.7s quicker than Graf's pace at the time.
Graf got within 0.6s and then made one last-ditch bid to depose the HPD, but had to abandon it after going straight on down the escape road at the first corner.
Guy Smith (Dyson Lola-Mazda) had an equally tough battle with Drayson's Jonny Cocker to earn third.
Porsche had a one-two in a GT session interrupted by Guy Cosmo crashing the #02 Extreme Speed Ferrari. Patrick Long put the #45 Flying Lizard Porsche on class pole by 0.4s over Wolf Henzler's Falken car, with the two Risi Ferraris third and fifth and the Corvettes fourth and sixth.
The Rahal Letterman BMWs struggled though, and will start ninth and 13th in class.
Christophe Bouchut took LMPC pole for Level 5, while Jeroen Bleekemolen claimed his and Black Swan's third straight pole in a GTC class depleted by Alex Job cutting back from three cars to one for the rest of the year, with ex-LMP1 men Butch Leitzinger and Luis Diaz among the drivers sidelined.
Pos  Cl   Drivers              Car         Time       Gap
 1.  P    Brabham/Pagenaud     HPD         58.106s
 2.  P    Pickett/Graf         Porsche     58.746s    + 0.640s
 3.  P    Dyson/Smith          Lola-Mazda  59.951s    + 1.845s
 4.  P    Drayson/Cocker       Lola        1m00.092s  + 1.986s
 5.  P    Field/Field          Lola        1m02.922s  + 4.816s
 6.  PC   Tucker/Bouchut       ORECA       1m03.020s  + 4.914s
 7.  PC   Marcelli/Wong        ORECA       1m03.587s  + 5.481s
 8.  GT   Bergmeister/Long     Porsche     1m03.904s  + 5.798s
 9.  PC   Figge/Papadopoulos   ORECA       1m04.082s  + 5.976s
10.  GT   Sellers/Henzler      Porsche     1m04.378s  + 6.272s
11.  GT   Melo/Bruni           Ferrari     1m04.391s  + 6.285s
12.  GT   Magnussen/O'Connell  Corvette    1m04.563s  + 6.457s
13.  GT   Salo/Kaffer          Ferrari     1m04.929s  + 6.823s
14.  GT   Beretta/Gavin        Corvette    1m05.011s  + 6.905s
15.  GT   Sharp/van Overbeek   Ferrari     1m05.064s  + 6.958s
16.  GT   Brown/Cosmo          Ferrari     1m05.346s  + 7.240s
17.  PC   Tucker/Wallace       ORECA       1m05.617s  + 7.511s
18.  GT   Auberlen/Milner      BMW         1m06.907s  + 8.801s
19.  GT   Murry/Robertson      Doran       1m07.005s  + 8.899s
20.  PC   Sedivy/Zugel         ORECA       1m07.584s  + 9.478s
21.  GT   Dalziel/Goossens     Jaguar      1m07.661s  + 9.555s
22.  GT   Law/Neiman           Porsche     1m07.892s  + 9.786s
23.  GTC  Pappas/Bleekemolen   Porsche     1m08.129s  + 10.023s
24.  GTC  Richard/Lally        Porsche     1m08.733s  + 10.627s
25.  GT   Muller/Hand          BMW         1m08.876s  + 10.770s
26.  GTC  Lewis/Vento          Porsche     1m09.689s  + 11.583s
27.  GTC  Curtis/Sofronas      Porsche     1m09.837s  + 11.731s
28.  GTC  Sweedler/Kapudija    Porsche     1m11.135s  + 13.029s
29.  GTC  Miller/Hines         Porsche     1m11.648s  + 13.542s
30.  PC   Jeannette/Julian     ORECA       1m18.455s  + 20.349s