Sutil quickest in wet German GP practice
| | |
| --- | --- |
| By Simon Strang | Friday, July 23rd 2010, 09:33 GMT |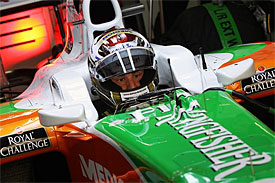 Adrian Sutil pulled another one of his now customary wet weather performances out for first practice to go quickest at Hockenheim in the tricky Friday morning session, as McLaren endured a major setback when Lewis Hamilton comprehensively mangled the left rear of his MP4-25.
The former world champion, who won a spectacular race the last time F1 visited this venue, hit a puddle and over-corrected through the left-handed Turn 3, 70 minutes into the session.
This snapped the car right and across the grass. Without purchase, the McLaren did not slow and swiped the wall heavily, damaging three corners of the car and no doubt the new blown diffuser system.
No such dramas for Sutil though, as the Force India driver was a feature through the second half of the 90 minutes as the track dried steadily - a complete dry line even emerging by the end. He eventually worked down to a best of 1m25.701s when the track was at its driest.
The drier line didn't stop the spins coming, indeed rarely have there been so many in one session as more than half the field had a flinching moment - some more than once.
One of those multi-spinners was Felipe Massa, who eventually went second fastest, but looked all at sea in his Ferrari for most of the session. The Brazilian had no less than five moments, the biggest of which saw him toboganning across the grass on the high-speed entry to the stadium.
Jenson Button put in a late flier to go third fastest, having complained on the radio about the handling of his McLaren early on.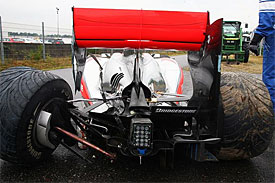 Rubens Barrichello, another to have a high-speed spin at Turn 3 when the track was at its wettest, was fourth fastest for Williams ahead of the impressive Vitaly Petrov - a recognised rain maestro - and Nico Rosberg, who was quickest for a while before drifting back to sixth.
Sebastien Buemi was seventh fastest as both Toro Rossos featured highly through the session, though in the end team-mate Jaime Alguersuari ended in 16th.
Nico Hulkenberg was eighth fastest, making it two Williams cars in the top ten – which was completed by Vitantonio Liuzzi and Pedro de la Rosa.
Sebastian Vettel might actually have been fastest had his late-flier not been interrupted by a trundling Lotus and he finished up 11th ahead of an extraordinarily high-up Timo Glock in the Virgin.
Mark Webber was 14th,. Fernando Alonso a lowly 19th, while Michael Schumacher wound up 23rd.
Pos  Driver         Team                   Time              Laps
 1.  Sutil          Force India-Mercedes   1:25.701            20
 2.  Massa          Ferrari                1:26.850  + 1.149   27
 3.  Button         McLaren-Mercedes       1:26.936  + 1.235   16
 4.  Barrichello    Williams-Cosworth      1:26.947  + 1.246   21
 5.  Petrov         Renault                1:26.948  + 1.247   21
 6.  Rosberg        Mercedes               1:27.448  + 1.747   20
 7.  Buemi          Toro Rosso-Ferrari     1:28.114  + 2.413   31
 8.  Hulkenberg     Williams-Cosworth      1:28.193  + 2.492   24
 9.  Liuzzi         Force India-Mercedes   1:28.300  + 2.599   19
10.  de la Rosa     Sauber-Ferrari         1:28.486  + 2.785   23
11.  Vettel         Red Bull-Renault       1:28.735  + 3.034   21
12.  Glock          Virgin-Cosworth        1:28.735  + 3.034   21
13.  Kubica         Renault                1:28.903  + 3.202   20
14.  Webber         Red Bull-Renault       1:29.048  + 3.347   13
15.  Trulli         Lotus-Cosworth         1:29.280  + 3.579   17
16.  Alguersuari    Toro Rosso-Ferrari     1:29.366  + 3.665   34
17.  Hamilton       McLaren-Mercedes       1:29.429  + 3.728    8
18.  di Grassi      Virgin-Cosworth        1:29.500  + 3.799   19
19.  Alonso         Ferrari                1:29.684  + 3.983   15
20.  Kobayashi      Sauber-Ferrari         1:29.690  + 3.989   17
21.  Fauzy          Lotus-Cosworth         1:30.938  + 5.237   27
22.  Senna          HRT-Cosworth           1:31.720  + 6.019   23
23.  Schumacher     Mercedes               1:32.450  + 6.749   13
24.  Yamamoto       HRT-Cosworth           1:32.791  + 7.090   26


All Timing Unofficial