Schumacher sure he'll stay on in 2011
| | |
| --- | --- |
| By Jonathan Noble | Thursday, July 22nd 2010, 14:01 GMT |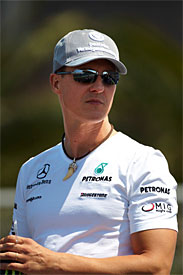 Michael Schumacher has no doubt that he will be in Formula 1 next season - as he again set his sights on winning another world title in 2011.
The German's disappointing first half to the season has prompted speculation that he could not see out his three-year deal with Mercedes GP.
However, speaking on the eve of his home race in Hockenheim this weekend, Schumacher said there were no questions in his mind that he would remain in F1 next year.
When asked to categorically confirm he will race for Mercedes GP in 2011, he said: "Yes."
Asked to elaborate on his targets for next season, Schumacher added: "It is what I mentioned the other day – that I officially publicised when I rejoined F1 – which is to win the title. That is my focus and that is what I am here for."
Schumacher also reckons that expectations on him had perhaps been set too high at the start of this season.
"Am I perfectly happy with my own performance? That is probably the wrong thing to say," he said. "There is an expectation out there, but you have to be realistic that it is probably impossible to meet. To be out three years and start where I finished in a car that doesn't allow me do it, is unrealistic.
"I will take my time. I enjoy most of it, this process. There are ups and downs and that is part of motorsport. I am very confident I can achieve it, which is what I am focusing for."