Senna confident of keeping HRT seat
| | |
| --- | --- |
| By Jonathan Noble and Pablo Elizalde | Thursday, July 22nd 2010, 13:34 GMT |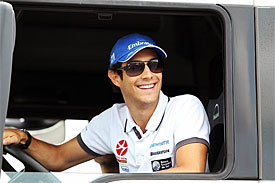 Bruno Senna is confident he will keep his racing seat at the Hispania team for the remainder of the season after missing the previous race at Silverstone.
The Brazilian was forced to sit out the British Grand Prix and was replaced by Sakon Yamamoto for reasons not specified by the team.
Yamamoto will replace India Karun Chandhok this weekend in Germany, while Senna returns to his car.
Senna said he is now hoping to race until the end of the year, although he insisted there are no guarantees in life.
"I always want to be racing. I always want to be in the car, so losing a car out of 18 is always tough, but the important thing is that I'm back for the rest of the season," Senna told reporters at Hockenheim.
"Of course I was not happy to not drive, but it's a team decision.
"There's nothing guaranteed in life. I hope I'll be racing until the end of the year. It's fixed but nothing is guaranteed in life. You have a job today but you may not have it tomorrow."
The Brazilian said the atmosphere in the team was fine after his return.
"Everything is fine. Our team arrived today and everybody was happy to see me back, so I think the environment in the team is fine," he added.
Speaking about 2011, Senna made it clear his main priority was the secure a drive, although he admitted it was still early days.
"It's a bit early to say. The important thing for me is that I have a seat for next year. This is what I'm aiming for."
And the HRT driver said he was in the dark about any possible performance updates for his car for this year.
"I'm not sure. The plan was to have some upgrades by this time of the year, but we are not sure how the investment side is.
"At the end of the day is about what the team can do financially. If it was up to me the car would have an upgrade every race weekend."