Tagliani wants action on crashes
| | |
| --- | --- |
| By Matt Beer | Tuesday, July 20th 2010, 09:41 GMT |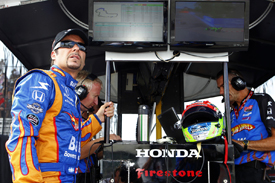 Alex Tagliani has called on the Indy Racing League to take a harder stance on driving standards after his collision with Tomas Scheckter in last weekend's crash-strewn Toronto IndyCar Series race - while the South African denied Tagliani's accusation that he had caused the crash deliberately.
The pair had also collided in the 2009 Toronto event, and Tagliani claimed Scheckter had told him the incident was 'payback'. Fazzt driver Tagliani urged the officials to take tough action to ensure feuds did not escalate on track.
"The most frustrating thing is a guy that does four races a year, you go see him, he tells you the F word, just payback, see you later," said Tagliani. "He was like actually happy that he didn't finish the race and he took us out. Pretty long time to keep a grudge.
"Either the series does something maybe a little bit more strict and gets the drivers to be a little bit more courteous and respectful, or, like I always said, if you take it in your own hands, it never ends. He pushes you back, you push him back, it's never going to stop.
"His attitude was really sad at the end of the race. I thought that was pretty s*****."
But Scheckter said Tagliani had misunderstood him, and described the crash as a racing incident.
"Tell him to stop crying like a baby. He did it to me last year," Scheckter told IMS Radio.
"There's no way I would ever do anything intentional or take out anybody. I was running seventh, I qualified 19th. I was racing for position, I had a good run, we were fighting for the same real estate and unfortunately we got together. There's no way that I did anything like that intentionally.
"Is it karma that it ended up being him that I was in the fence with? Yes, maybe. But there's absolutely no way I did that intentionally. He should get over it like I did last year."