| | |
| --- | --- |
| Rossi says early return not crazy | |
| | |
| --- | --- |
| By Michele Lostia and Pablo Elizalde | Friday, July 16th 2010, 09:38 GMT |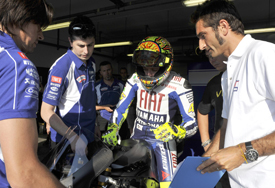 Valentino Rossi says his early return to action is not a crazy decision, although the Italian admits he is unsure if he will manage to complete the race on Sunday.
Rossi broke his right leg in a practice crash during the Italian Grand Prix last month, and he was expected to be out of action for several months.
However, the current MotoGP champion is making a sensational comeback at this weekend's German Grand Prix.
Rossi denied, however, that the decision was wrong, and says he has made sure he is fit to race.
"This comeback is not a crazy thing, we've done everything we had to do," he was quoted as saying by Gazzetta dello Sport.
"Rehabilitation was carried out scrupulously and I can move the ankle at 90%, just like the knee. The shinbone and fibula have started developing bone callus, and obviously the screw keeps the shinbone more steady.
"I think I can ride, but for me this is a way to get back in shape. A lot will depend on the way I feel on the bike and on weather conditions.
"I will have to be more careful if it rains; sunshine would be a lot more important for me than for the others. The only big question mark is stamina, I don't know if I can complete the race, because after a while my knee hurts and I lose strength."
He added: "I can do a few steps without crutches, but I can't walk too much. I'm a lot more optimistic about my shoulder. Over the last two weeks I've been able to work a lot in the swimming pool and the situation has improved, now we'll have to see how I feel in the race.
"Things went fairly well with the Superbike I rode, but that bike is different from the MotoGP one. It's heavier, and it brakes less. The M1 has carbon brakes and is a lot more aggressive both when accelerating and under braking."
The Yamaha rider, who is now 104 points behind team-mate Jorge Lorenzo in the standings, is not ruling out fighting for the title despite having missed four races.
"Even before the crash Lorenzo had demonstrated he was the rider in the best shape, he's been really strong. Can I make up the lost ground in the points? Obviously it's very difficult, but not impossible. There are many races to do yet, and taking 100 points more over eleven races is not impossible. We'll have to see many things.
"I haven't come back here to get back in the title fight, but with bike racing you never know. In 2006 I made up 52 points on Hayden over six races. This year I have four zeroes, but last year I won the title with three zeroes."