IRL sets template for IndyCar future
| | |
| --- | --- |
| By Steven English | Wednesday, July 14th 2010, 16:44 GMT |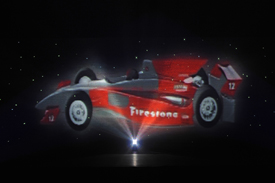 The IndyCar Series will undergo its biggest change in recent history, after it was announced that teams will be allowed to introduce their own aero kits to a new spec-Dallara chassis from 2012.
The new rules, unveiled today, will mean that although IndyCar will remain a single-chassis formula, entrants and constructors will be able to develop their own packages - bringing variety of equipment back to North America's top-tier of single-seater racing for the first time since 2005.
The IRL's seven-man ICONIC (Innovative, Competitive, Open-Wheel, New, Industry-Relevant, Cost-Effective) advisory panel, which included former FIA technical consultant Tony Purnell and Indy 500 winner Gil de Ferran, awarded the contract for the new chassis to Dallara as part of a low-cost package that it hopes will revitalise the series.
IRL chief Randy Bernard said: "Today is an exciting day. Today is a result of listening to all of you - your ideas, your passion, your input. We've listened. The decisions we've made were not easy. This decision is one of the most important decisions of the decade for the IndyCar Series and its future.
"It is a huge honour to know that in 18 months this car will be a reality."
The Dallara-built tub will be known as the IndyCar Safety Cell, around which any constructor is allowed to create their own front and rear wings, sidepods and engine covers. The car will then be known by the name of the manufacturer that supplied its aero kit, rather than as a Dallara.
The rolling chassis will be made available for $349,000 (£228,000), with a complete car costing $385,000 (£252,000) - which the series claims is a 45 per cent decrease from the current cost.
Dallara's willingness to build a new factory within one mile of the Indianapolis Motor Speedway was cited as one the reasons it was chosen over rival bids from Lola, Swift, Delta Wing and BAT.
The jobs that will be created by the Italian firm's presence in the city has led to an agreement which will offer a $150,000 (£100,000) discount on the first 28 cars sold to teams based in the state of Indiana.
Teams will be allowed to race two different aero kits on each car per season, with the price for each kit capped at $70,000 (£45,000). Each single kit will include road course and oval versions, and all must be made available to all entrants, and must pass the series' safety tests.
"This strategy achieves the different looks that fans wanted while maintaining the close, intense racing that occurs at every event, whether on a superspeedway, short oval, road course or street circuit," Bernard added.
"A new car also levels the playing field, giving more teams a chance to succeed and generating more excitement for our fans.
"The significant reduction in the price of the new car is very important, as it helps to maintain economic stability for our teams as we transition to a new car. It also creates a more attractive avenue for new teams to enter the series."