Montezemolo says Ferrari must react
| | |
| --- | --- |
| By Michele Lostia and Pablo Elizalde | Tuesday, July 13th 2010, 09:23 GMT |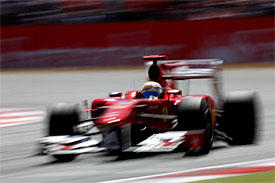 Ferrari president Luca di Montezemolo believes his team cannot afford to waste "any more opportunities" in this year's championship.
The Italian squad has endured a series of disappointing races, having managed just four points at Valencia and Silverstone after being hit by problems and bad luck.
Fernando Alonso is now 47 points behind championship leader Lewis Hamilton, while Felipe Massa, who has not scored since Turkey, is already 78 adrift.
Di Montezemolo, however, reckons it is no time to complain about the past races, and he says the team must start getting results immediately if it is to stay in the championship fight.
"Crying is useless: we are Ferrari and it's time to show it with results on the track," di Montezemolo was quoted as saying by Gazzetta dello Sport. "I want the team to face the second half of the season in a positive way.
"We have gone through harder moments than this one, and we have come through, but it's clear we must not waste any more opportunities like the ones we have missed for various reasons over the last two races, despite having a competitive car.
"These days qualifying and race starts become decisive moments: we must improve on these two fronts if we want to win. I expect everyone to give 100% in order to bring home the points we have lost thus far."