Horner regrets not speaking to Webber
| | |
| --- | --- |
| By Jonathan Noble | Tuesday, July 13th 2010, 08:47 GMT |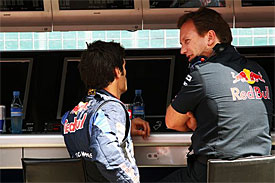 Red Bull Racing team principal Christian Horner wishes he had spoken to Mark Webber before the controversial wing swap took place ahead of qualifying for last weekend's British Grand Prix.
The Milton Keynes-based outfit has found itself plunged into a fresh favouritism row in the wake of it taking a new front wing off Webber's car and handing it to team-mate Sebastian Vettel at Silverstone.
Webber was left furious at what happened and, after winning the race on Sunday, he said he would never have re-signed for the team for 2010 if he knew that was how he was going to be treated. He also said on Monday that the victory had tasted 'sweeter' because of the situation.
Horner has moved to try and play down talk of a rift in Red Bull Racing's ranks - pointing out that Webber joined a post-race party with himself and Vettel on Sunday night - but has conceded for the first time that could have handled the matter better for it not to have blown up the way it has.
But he made it clear that he was not simply acting on the wishes of Red Bull boss Dietrich Mateschitz and his motorsport advisor Helmut Marko - who have long been suspected of favouring Vettel.
Speaking to The Daily Telegraph, Horner said: "There has never been any pressure from Red Bull to favour one driver over the other.
"I didn't have a conversation with Helmut or anyone from Red Bull regarding the decision to give Sebastian the wing. It was purely a technical decision, which I discussed with Adrian [Newey].
"My one regret is that I didn't have time to discuss the issue with Mark personally prior to qualifying as I'm sure that would have given him a more balanced understanding."
Horner is due to meet Webber later this week to go through the events of Silverstone and discuss how to move forward - with the Australian making it clear on Sunday that he did not want to be treated like a number two again.
And despite newspaper reports of Webber's mechanics taunting Vettel's after the race on Sunday - which Webber described as 'an appointment with Karma' - Horner insisted there was no rift at garage level.
"It's ridiculous," he said. "Our mechanics are completely for each other, irrelevant of the car crew. That's why we have some of the fastest pit stops in Formula 1.
"There is one team of mechanics for both drivers and all championship bonuses are based on team position rather than driver so there is no favouritism at all."