McLaren not relying on Red Bull fallout
| | |
| --- | --- |
| By Jonathan Noble | Monday, July 12th 2010, 10:18 GMT |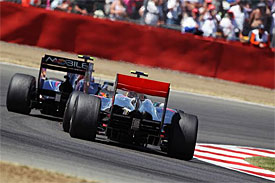 McLaren boss Martin Whitmarsh says his team is not going to rely on Red Bull Racing getting ripped apart by its internal divisions - even though he thinks the favouritism row that has engulfed his title rivals is now an unwelcome distraction for the Milton Keynes-based outfit.
Red Bull Racing is facing a crunch few days to try and put a lid on the row that has erupted between Mark Webber and the team management over its decision to swap front wings on its cars before qualifying at the British Grand Prix.
That decision left Webber feeling he had been relegated to the number two driver position – and he claimed after his Silverstone victory that he would have never re-signed for the team for 2010 if he knew that was how he was going to be treated.
And with Red Bull Racing team principal Christian Horner insisting he has no regrets about the decisions he took at Silverstone – even though it has led to a huge backlash from the media and fans – rival teams have already suggested they can capitalise on the trouble.
Whitmarsh, whose team heads Red Bull Racing in both championships despite having not had the quickest car this year, said he hopes that the problems at Red Bull spiral out of control – but he made it clear he wasn't going to count on it.
"I don't know what's happening there," said Whitmarsh, after seeing Lewis Hamilton extend his lead in the world championship standings after the British Grand Prix.
"We have got to concentrate on our situation. A lot of people speculated on the relationship between our two drivers. And the fact is that it hasn't been a news story yet meant people tried to make it one.
"I hope there are cracks and divisions in all our competitors and they all fall apart, but I am not going to rely on it. We have got to make our car quicker and try and win the championships that way."
When asked if he felt that the internal problems at Red Bull Racing could prove to hurt the team's efforts on track, Whitmarsh said: "I think if your drivers aren't working together then it is one more distraction you could do without."
Whitmarsh reckoned that any decision that could leave one driver feeling as though he is being disadvantaged, such as the removal of parts to give to his team-mate, needed careful thought to consider the consequences.
"You have got to think carefully about decisions," he said. "Drivers are immensely competitive individuals. They wouldn't be doing that job otherwise, so if they perceive something that is not even-handed or fair, then you are going to have some trouble.
"There is always a potential tension with two drivers in the same team fighting for a championship. We've experienced that a few times, it's difficult, but I have to say that so far I think we are in reasonable shape in that regard."
Whitmarsh has close-hand experience of dealing with such driver tensions, when Fernando Alonso had a difficult time working with the outfit in 2007.
Looking back on the events of that season, which included the outfit getting dragged into a spy case, Whitmarsh openly admitted that the off-track situation cost it the world title.
"2007 was a tough year for all sorts of reasons," he said. "We had a competitive car, we were trying to win the world championship but ultimately we lost it by one point. Certainly the histrionics that went around, cost us that world championship, so we had to understand and respect that."
He added: "But I know the depth of this racing team. I think the combination of the drivers, a reasonable car and a strong team has enabled us to be leading both championships."