Sutil unimpressed with Vettel's pass
| | |
| --- | --- |
| By Matt Beer | Sunday, July 11th 2010, 15:31 GMT |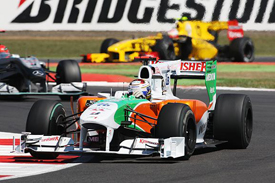 Adrian Sutil has accused Sebastian Vettel of forcing him out of the way at the end of the British Grand Prix.
The two Germans had a spectacular battle in the closing laps, as Vettel recovered from his first lap delay, and Sutil tried to hang on to the seventh place he had gained with a bold move on Michael Schumacher.
It took until the penultimate lap for Vettel to get past in the complex, with a move that left Sutil disgruntled.
"It was good racing and I defended my position well against Vettel until the final lap, but then he just seemed to drive into me and I lost the racing line and had to move over," Sutil said. "Otherwise I don't think he would have got past me."
Despite his annoyance at Vettel's pass, Sutil was still pleased to have taken eighth. He revealed that his original plan for making progress from 11th on the grid had been to run a long first stint on hard tyres, but he abandoned that idea and instead spent most of the distance on softs.
"It was fun and quite an interesting race," said Sutil. "We started on the hard tyre as we wanted to try a long stint at the start but it was not really possible as the tyres didn't behave well at the beginning.
"I didn't have enough grip on the car so we came in to do an early stop and go on the soft tyre, so really the opposite strategy to everyone else.
"It worked well although the last ten laps were tough. But we managed it and there were some really good fights with Schumacher and then Vettel."