Alonso: No regrets over Kubica move
| | |
| --- | --- |
| By Pablo Elizalde | Sunday, July 11th 2010, 15:20 GMT |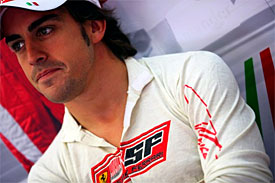 Fernando Alonso says he has no regrets about not having let Robert Kubica through during the British Grand Prix, despite the decision costing him a penalty.
Alonso was penalised for overtaking Kubica by going off track, but the Ferrari driver said there was nothing else to do, as his Renault rival had left him no room to take the corner.
Alonso finished the race in 14th position after having to serve the drive-through.
"I think we did what we had to do and I don't think we had to change anything," Alonso told Spanish reporters after finishing outside of the points at Silverstone.
"There will be a lot of opinions from people watching on TV while having a beer, saying we should have let Kubica by in a moment when, first, there was nothing to do - if there'd had been a wall instead of grass I would have crashed against it and they would have penalised Kubica most likely.
"So it depends on how you look at it. We thought it was fine. A few laps passed and there were no news and then if we had wanted to let him by, Kubica had retired already so there was nothing to change."
The Spaniard insisted he did not feel unfavoured by the race stewards, just two weeks after the European Grand Prix controversy.
"The criteria is the same for everybody," he said. "The stewards look closely at all the incidents of the race and they always make the decision they think is the right one."
When asked if he felt the penalty was fair, he said: "It's always fair."
Despite failing to score, Alonso said he was very encouraged by the pace of his car in race trim, and he is adamant that the title is still very much within reach.
"Forty seven points seem a lot, but we don't see it that way. Besides, before coming to Silverstone I trusted I could fight for the title, but we had to confirm that the car was working well at this track.
"And now after Silverstone, regardless of the points we have lost, the car was flying in the race, so now I believe I can win the title much more than I believed before."