Vettel blames clutch for poor start
| | |
| --- | --- |
| By Geoff Creighton and Pablo Elizalde | Sunday, July 11th 2010, 14:34 GMT |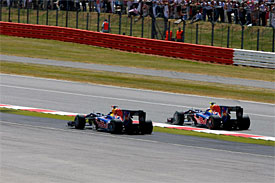 Sebastian Vettel was left lamenting his slow start in the British Grand Prix, something he reckons was down to having the wrong settings for the clutch.
"I think we were a little bit out of the window with the clutch," said Vettel, who lost the lead of the race to Red Bull team-mate Mark Webber at the first corner.
"I had a bad start, lots of wheelspin, so I lost the immediate pull-away. I think we tried probably a bit too hard [with start settings], but that's life - you try hard to get the optimum."
Vettel appeared to be hit by the McLaren of Lewis Hamilton at the first corner, and the German suffered a puncture as a result of the contact.
He had to complete the lap slowly and pit, returning to the track at the back of the field.
"Into Turn 1 obviously I had to let Mark past and then I don't know if - I didn't feel anything – people said that Lewis touched me. As I said, I didn't feel anything," Vettel added.
"Probably he achieved this time what he [Hamilton] didn't achieve in Valencia. Surely it wasn't his intention to give me a puncture, if it was like that [contact with Hamilton], but with a puncture early on in the race it's a big minus.
"I had to come back slowly to the pits. Then I was on the same set of tyres for the rest of the race. Fortunately the safety car came out so I had a bit of entertaining the last couple of laps."
He added: "From my point of view he had a better start, so obviously I moved to the right trying to defend but he was already there – I knew that because I could see him in the mirror. I knew he didn't stall.
"Then he was there so there was no point in doing something stupid. The race is longer than just one corner. It's a shame I couldn't fight him then, but it's good for the team. I'm happy for the team."
Webber went on to win the race while Vettel recovered to seventh position.
The Australian, however, made it clear he was still angry with the team following its decision to give Vettel one of his front wings.
Vettel refused to comment on Webber's remarks, with the Australian saying on the radio that his performance was "not bad for a number two driver."
"Well, I obviously focus on myself and sort of see, I guess," said Vettel. "Especially after what happened in the past. People have different opinions, I have my opinion, I have made my experiences, sometimes good and bad, and you get to know people probably a bit better and see their true faces. I think I learned my lesson, and I focus on myself."