Webber takes commanding Britain win
| | |
| --- | --- |
| By Matt Beer | Sunday, July 11th 2010, 13:31 GMT |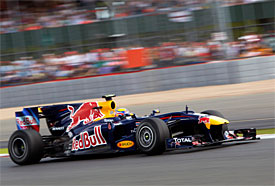 Mark Webber responded to the Red Bull front wing controversy in the best way imaginable by taking a commanding British Grand Prix victory ahead of Lewis Hamilton, Nico Rosberg and Jenson Button.
Polesitter Sebastian Vettel's chances of victory were ruined by a first-lap puncture, although he recovered to seventh, and there was further controversy over stewarding decisions after a contentious penalty for Fernando Alonso left the Ferrari outside the points.
Webber made a much better start than his team-mate and reached Copse first, despite Vettel's best efforts to squeeze him. Vettel then lurched off the road at Becketts with a right rear puncture, potentially the result of a slight touch from Hamilton's McLaren at the first corner.
Felipe Massa was also trundling back to the pits with flailing rubber - he had been side by side with his slow-starting Ferrari team-mate Alonso through the first corner and wheel banging at Becketts left the Brazilian with a puncture as well.
Webber therefore led from Hamilton, with this pair rapidly dropping quick-starter Robert Kubica (Renault) in third, who had Rosberg's Mercedes and Alonso all over the back of him.
Pitting slightly earlier than Kubica did not work for Alonso, whereas running a little longer did the trick for Rosberg. Eager not to lose more time, Alonso went down the outside of Kubica into Vale on lap 17, and completed the pass by nipping over the kerbs and cutting the first apex of Club.
He then sprinted away after Rosberg, while Kubica was assured that Alonso would be ordered to let him back through. That became a moot point three laps later though, when Kubica retired with a differential problem.
The stewards therefore ruled that Alonso should take a drive-through penalty, a decision announced just before the safety car came out so that debris could be cleared following contact between Adrian Sutil (Force India) and Pedro de la Rosa (Sauber) that left chunks of the latter's rear wing deposited on various straights. With Alonso having to take his penalty immediately after the restart, he tumbled straight to the midfield.
The safety car was a lifeline for Vettel, who had made little progress up to that point, but then started carving through the traffic with a string of spectacular passes, including one on Michael Schumacher. Sutil - who had also put a bold move on Schumacher after the restart - proved Vettel's toughest rival, and it took many laps of tough battling before the Red Bull driver finally muscled through to take seventh on the penultimate lap.
Far away from this excitement, Webber delivered a masterclass at the front of the field. Hamilton managed to tag along until the pitstops, but thereafter Webber was unstoppable, reeling off fastest laps whenever required and leading by 6s before easing off at the end.
Rosberg returned Mercedes to the podium with a strong run to third, despite losing a barge board when sweeping round the outside of the yet-to-stop Jaime Alguersuari's Toro Rosso mid-race. The German finished just ahead of Button, who surged through from 14th to fourth thanks to a great first lap and staying out much longer than most before his tyre change.
Rubens Barrichello gave Williams its second straight top five finish, with Kamui Kobayashi following him home for Sauber's best result of the year.
By the time Vettel was clear of Sutil that pack was too far ahead to reach, so he had to settle for seventh, followed by countrymen Sutil, Schumacher and Nico Hulkenberg.
Alonso's race got even worse when he sustained a puncture in a brush with Tonio Liuzzi's Force India, leaving him 14th, one place ahead of Massa, who needed a further set of new tyres after spinning on the exit of Luffield late on.
PROVISIONAL RACE RESULTS

The British Grand Prix
Silverstone, Britain;
52 laps; 306.747km;
Weather: Sunny.

Classified:

Pos  Driver        Team                       Time
 1.  Webber        Red Bull-Renault           1h24:38.200
 2.  Hamilton      McLaren-Mercedes           +     1.360
 3.  Rosberg       Mercedes                   +    21.307
 4.  Button        McLaren-Mercedes           +    21.986
 5.  Barrichello   Williams-Cosworth          +    31.456
 6.  Kobayashi     Sauber-Ferrari             +    32.171
 7.  Vettel        Red Bull-Renault           +    36.734
 8.  Sutil         Force India-Mercedes       +    40.932
 9.  Schumacher    Mercedes                   +    41.599
10.  Hulkenberg    Williams-Cosworth          +    42.012
11.  Liuzzi        Force India-Mercedes       +    42.459
12.  Buemi         Toro Rosso-Ferrari         +    47.627
13.  Petrov        Renault                    +    59.374
14.  Alonso        Ferrari                    +  1:02.385
15.  Massa         Ferrari                    +  1:07.489
16.  Trulli        Lotus-Cosworth             +     1 lap
17.  Kovalainen    Lotus-Cosworth             +     1 lap
18.  Glock         Virgin-Cosworth            +     1 lap
19.  Chandhok      HRT-Cosworth               +    2 laps
20.  Yamamoto      HRT-Cosworth               +    2 laps

Fastest lap: Alonso, 1:30.874

Not classified/retirements:

Driver        Team                         On lap
Alguersuari   Toro Rosso-Ferrari           45
De la Rosa    Sauber-Ferrari               30
Kubica        Renault                      20
Di Grassi     Virgin-Cosworth              10


World Championship standings, round 10:                

Drivers:                    Constructors:             
 1.  Hamilton     145        1.  McLaren-Mercedes          278
 2.  Button       133        2.  Red Bull-Renault          249
 3.  Webber       128        3.  Ferrari                   165
 4.  Vettel       121        4.  Mercedes                  126
 5.  Alonso        98        5.  Renault                    89
 6.  Rosberg       90        6.  Force India-Mercedes       47
 7.  Kubica        83        7.  Williams-Cosworth          31
 8.  Massa         67        8.  Sauber-Ferrari             15
 9.  Schumacher    36        9.  Toro Rosso-Ferrari         10
10.  Sutil         35       
11.  Barrichello   29       
12.  Kobayashi     15       
13.  Liuzzi        12       
14.  Buemi          7       
15.  Petrov         6       
16.  Alguersuari    3       
17.  Hulkenberg     2       
       
All timing unofficial