Q & A with Pedro de la Rosa
| | |
| --- | --- |
| By Simon Strang | Sunday, July 11th 2010, 09:05 GMT |
Pedro de la Rosa recorded his best qualifying performance of the year so far at Silverstone this weekend.
The Sauber driver sat down with the press afterwards to talk about his hopes for scoring points in the British Grand Prix, why he believes the C29's pace is no flash in the pan and how ninth on the grid was more than he was expecting. AUTOSPORT was there to hear what he had to say.
Q. Is that what you were expecting?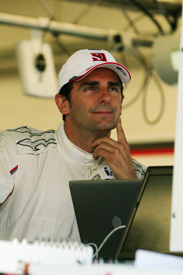 Pedro de la Rosa: No. We were really not expecting to be so high up, especially after yesterday. We made a lot of changes in the car for today and since then everything worked a lot better. The car has always been very good in high speed corners and that helps. We were already improving in Valencia, we had a new diffuser there and here we have a new front wing. So that helps. It all helps. I think that some guys had problems with their blown diffuser and we have taken advantage of it.
Q. Have you got rid of the problems with the option tyre now?
PdlR: Well in Turkey I was always very quick with the prime and then with the option I never went any quicker. But you have to work on the car also. You have to forget about the prime tyre and just work on making the car quick with the option and that is what we have been doing lately. You move the weight distribution and everything to suit the option because that is what gives you the speed in qualifying, and it's all about qualifying and then looking after the tyres in the race.
I think it was more of a balance issue. Of course I haven't had great qualifying sessions until today because otherwise I would not have been 16th. But I am quite happy, I have been driving quite well.
Q. What will be the key to get a good result tomorrow?
PdlR: To just not make mistakes. Basically that sounds very easy but it is not. So get a good start, stay away from trouble and take care of the tyres, and then as soon as you start feeling front graining, pit, change tyres and go. It's okay, it's the same for everyone.
Q. If the car suits high-speed corners what do you think about the two races coming up?
PdlR: Obviously Budapest will be difficult, Hockenheim we will see. It could be better. Spa should be quite good and Monza will be difficult with the low downforce and kerbs. We just have to take it step-by-step. I don't know what changes will come for Hockenheim. We have some upgrades in the diffuser so we just have to wait and see.
Q. You qualified extremely well today. What are your expectations for tomorrow?
PdlR: It's a true genuine pace, that's the good thing and that is why we are looking for points tomorrow. It wasn't a lucky thing or because of a rainy qualifying session. We were quicker than guys that have been very quick. They have very competitive teams, and I am very pleased for our team because the level out there is incredible.