Winterbottom takes victory in race two
| | |
| --- | --- |
| By David Wright | Sunday, July 11th 2010, 06:21 GMT |
F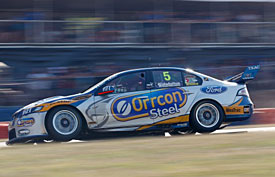 ord Performance Racing's Mark Winterbottom made the most of a fast car and good strategy to take victory in race two of the Sucrogen Townsville 400.
Winterbottom ran fifth in the early stages, but was the first of the leaders to pit, emerging with the lead after the first round of pitstops were completed.
He had built up a comfortable ten second margin over second place when a late-race safety car bunched the field back together, but held on to take victory despite close attention from James Courtney.
Courtney finished second but was somewhat fortunate to finish that high, though a top-five finish was a certainty. Poleman and early race leader Jamie Whincup looked set for back-to-back wins before a broken brake pipe forced him to pit after eight laps while leading for lengthy repairs, Whincup eventually finishing 23rd.
On lap 25 he lost third place to Craig Lowndes, but took the place back at the turn two hairpin on lap 42. Also on lap 42, and just one corner up the road at turn three, second-place runner Garth Tander understeered into the tyre wall on the exit.
With yellow flags waving, Tander reversed out just as Courtney and Lowndes arrived. But with Tander still on the race line as Courtney reached the apex, Courtney slowed sharply. Both Courtney and Lowndes made it safely past Tander as he reversed out the way.
However, Lowndes couldn't react to Courtney's sudden slowing and ran into the back of him, damaging the front of his car and forcing him to the pits immediately, his crew eventually choosing to retire the car, while Courtney escaped with little more than cosmetic damage.
Tander took third despite the front of his car looking much the worse for wear after the tyre wall encounter, with fourth a great result for Paul Dumbrell after starting 14th.
Fifth looked to be Jason Bright's, but despite time restraints shortening the race by a lap, he suffered cruel luck when with less than three laps before the chequered flag, engine problems struck and dropped him down to 18th.
This was good news for FPR however, with Steven Richards in fifth completing a 1-4-5 result for cars run by the team, Richards just holding out Will Davison by a tenth of a second at the chequered flag, with Shane van Gisbergen, Jason Richards and Jonathon Webb right behind them.
Early contact for Steven Johnson got his day off to a bad start and didn't get any better, finishing 22nd, several laps down after pitting to repair body damage.
There was also early contact for Rick Kelly and Tony D'Alberto as they exited the turn two hairpin together, causing damage to both cars and leaving Russell Ingall with nowhere to go except into the side of D'Alberto's car. D'Alberto and Ingall's races retired while Kelly recovered to finish 13th.
With the next event, the L&H 500 at Phillip Island, nine weeks away, Courtney has some time to savour his championship lead. While he was under threat at the start of the day, leading Whincup by just 18 points, the race result leaves Courtney with a margin of 120 points over Whincup, with Mark Winterbottom a further 204 points behind Whincup in third.
Pos  Driver                Make                  Time
 1.  Mark Winterbottom     Ford Falcon FG        1h36m49.3580s
 2.  James Courtney        Ford Falcon FG        +     1.2350s
 3.  Garth Tander          Holden Commodore VE   +     4.4763s
 4.  Paul Dumbrell         Ford Falcon FG        +     9.6783s
 5.  Steven Richards       Ford Falcon FG        +    13.1716s
 6.  Will Davison          Holden Commodore VE   +    13.2849s
 7.  Shane Van Gisbergen   Ford Falcon FG        +    13.9365s
 8.  Jason Richards        Holden Commodore VE   +    14.4176s
 9.  Jonathon Webb         Ford Falcon FG        +    15.4904s
10.  Jason Bargwanna       Holden Commodore VE   +    23.7017s
11.  Michael Caruso        Holden Commodore VE   +    24.0598s
12.  Tim Slade             Ford Falcon FG        +    24.6065s
13.  Rick Kelly            Holden Commodore VE   +    28.9725s
14.  Alex Davison          Ford Falcon FG        +    30.3726s
15.  Lee Holdsworth        Holden Commodore VE   +    30.8514s
16.  Cameron McConville    Holden Commodore VE   +    46.4925s
17.  Greg Murphy           Holden Commodore VE   +    52.2958s
18.  Jason Bright          Holden Commodore VE   +    58.7969s
19.  Todd Kelly            Holden Commodore VE   +  1m06.8035s
20.  Tony Ricciardello     Holden Commodore VE   +      1 lap
21.  Dean Fiore            Ford Falcon FG        +      3 laps
22.  Steven Johnson        Ford Falcon FG        +      6 laps
23.  Jamie Whincup         Holden Commodore VE   +     13 laps

Not classified/retirements:

     Driver                Make                  Laps
     Fabian Coulthard      Holden Commodore VE    70
     Craig Lowndes         Holden Commodore VE    41
     Andrew Thompson       Holden Commodore VE    25
     Tony D'Alberto        Holden Commodore VE     1
     Russell Ingall        Holden Commodore VE     1
     Karl Reindler         Holden Commodore VE     1