Whincup wins Townsville race one
| | |
| --- | --- |
| By David Wright | Saturday, July 10th 2010, 08:43 GMT |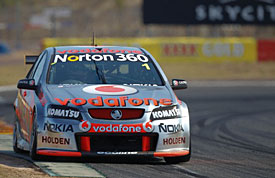 Team Vodafone's Jamie Whincup followed on from where he left of in qualifying, taking victory in race one of the Sucrogen Townsville 400.
Whincup lost out at the start to Garth Tander and Mark Winterbottom, but took Winterbottom on lap two and Tander on lap 8 to take the lead. From there he opened a gap which was comfortable enough for the rest of the race not to come under too much pressure.
Tander took a comfortable second, easing away later in the race from Winterbottom who took a safe third place.
Lee Holdsworth was fourth, just holding off James Courtney at the chequered flag. Courtney had an eventful race, particularly in the opening laps, passing Bright for fifth place as they started lap two.
As they entered the hairpin turn two on that same lap, Courtney made an ill-advised dive on the car ahead. Worse news was that it was his team-mate Steven Johnson.
The two cars made contact, Courtney dropping from fifth to ninth, while Johnson spun and fell from fourth to 21st. The one piece of good news for Courtney was that he was not penalised for the incident, though one wonders if officials would have viewed the incident differently had they not been team-mates.
The next two places were taken by two drivers who probably didn't expect to be there after where they had qualified. Russell Ingall started 27th, and Jason Richards 25th, but in the race their cars were fast, moving up 21 and 18 places respectively to finish sixth and seventh.
Shane van Gisbergen, Steven Richards and Paul Dumbrell completed the top ten finishers, while Steven Johnson recovered well to finish just outside the top ten in 11th after his earlier drama with his team-mate.
A day which hadn't begun well for Will Davison became worse when he banged wheels with van Gisbergen, eventually finishing 18th.
Davison's day was better than Craig Lowndes's however. He slapped the wall through the kink at turn one on lap one, damaging the car, spending several laps in the pits for suspension repairs on his way to 26th.
Pos  Driver                Make                  Time
 1.  Jamie Whincup         Holden Commodore VE   1h31m16.3310s
 2.  Garth Tander          Holden Commodore VE   +     9.2299s
 3.  Mark Winterbottom     Ford Falcon FG        +    18.9838s
 4.  Lee Holdsworth        Holden Commodore VE   +    29.4880s
 5.  James Courtney        Ford Falcon FG        +    29.8789s
 6.  Russell Ingall        Holden Commodore VE   +    52.5594s
 7.  Jason Richards        Holden Commodore VE   +    56.2002s
 8.  Shane Van Gisbergen   Ford Falcon FG        +    57.5198s
 9.  Steven Richards       Ford Falcon FG        +    60.4776s
10.  Paul Dumbrell         Ford Falcon FG        +    61.1455s
11.  Steven Johnson        Ford Falcon FG        +    61.5818s
12.  Tim Slade             Ford Falcon FG        +    66.6324s
13.  Alex Davison          Ford Falcon FG        +    70.2249s
14.  Fabian Coulthard      Holden Commodore VE   +    72.3902s
15.  Rick Kelly            Holden Commodore VE   +    75.5253s
16.  Jonathon Webb         Ford Falcon FG        +    75.8091s
17.  Todd Kelly            Holden Commodore VE   +      1 lap
18.  Will Davison          Holden Commodore VE   +      1 lap
19.  Michael Caruso        Holden Commodore VE   +      1 lap
20.  Dean Fiore            Ford Falcon FG        +      1 lap
21.  Karl Reindler         Holden Commodore VE   +      1 lap
22.  Jason Bargwanna       Holden Commodore VE   +      1 lap
23.  Greg Murphy           Holden Commodore VE   +      1 lap
24.  Cameron McConville    Holden Commodore VE   +      2 laps
25.  Tony Ricciardello     Holden Commodore VE   +      2 laps
26.  Craig Lowndes         Holden Commodore VE   +     11 laps

Not classified/retirements:

     Driver                Make                  Laps
     Jason Bright          Holden Commodore VE    44
     Tony D'Alberto        Holden Commodore VE    31
     Andrew Thompson       Holden Commodore VE    27