Kenseth frustrated with team's slump
| | |
| --- | --- |
| By Diego Mejia | Saturday, July 10th 2010, 05:22 GMT |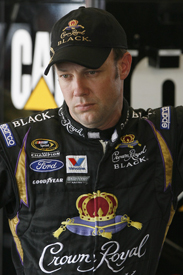 Former NASCAR Sprint Cup champion Matt Kenseth believes his Roush Fenway team is currently going backwards and has been growing in frustration with his lack of performance in recent races.
Despite ranking seventh in the points after 18 of the first 26 races before the championship play-off, Kenseth has finished 14th or worse in the last five races, in which he has dropped down from third place in the drivers' standings.
Recently Kenseth had his second crew chief change of the season, having started the year with Drew Blickendersfer with whom we won races in 2009, then getting Todd Parrot from the second race of the year at Fontana. Two weeks ago at New Hampshire Jimmy Fennig was named as his crew chief but the pair got off to a difficult start to their partnership - finishing 17th and 15th in their first two races together.
Kesenth is getting increasingly frustrated with his lost momentum and does not see his group making any progress.
"If you ask me today, I don't feel like we are making gains, I feel like we are going backwards," Kenseth said. "I think the #9 [Ford of Kasey Kahne] has run better, but the rest of [the Fords] haven't improved very much, to be honest. Everybody else probably says we are improving, but I don't see it.
"I don't know what is going on, to be honest. I wish I had a better answer for you, I really do. We have had a lot of things change over the last couple of years, but I just don't really know what the answer is right now."
"To me there is a concern," he added. "Last week we finished 15th but we wrecked and everybody else had a bigger wreck. We could have easily finished 40th last week... It is frustrating to go out at what I feel is one of my best tracks in the past, this place, and run 38th in the first practice and 40th in the second practice. That is very frustrating."
Kenseth is unsure whether his team understands where the problem lies, as it has not won a race since Jamie McMurray's victory at Talladega last autumn. He feels Roush Fenway officials do not appreciate his input and ideas, and believe they can find their own answer to their shortcomings.
"We all have our different ideas and theories," said Kenseth. "The people running the place don't like mine, so we will just keep going the way we are going and hope it gets better.
"They are doing things to try to move in the right direction and give us what we need to run better. Today, some of our cars were really fast. I don't buy into practice or even qualifying that much. I have to see it on Saturday night and see who finishes where. That will prove if we are headed in the right direction or not."
During Friday's qualifying at Chicagoland Speedway Kenseth was down in 34th place, while his team-mates Greg Biffle and Carl Edwards were fourth and 11th respectively.