Q & A with Sakon Yamamoto
| | |
| --- | --- |
| By Simon Strang | Friday, July 9th 2010, 19:09 GMT |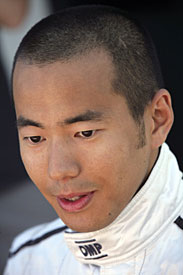 Sakon Yamamoto will participate in his first grand prix since Interlagos in 2007 when the grid forms up at Silverstone on Sunday, having controversially replaced Bruno Senna in the HRT team on Thursday.
Sakon Yamamoto spoke to the press about his surprise call up to race, what it meant to him to be competing again in Formula 1 and why he wants to clear the air with the man he replaced for the British Grand Prix. AUTOSPORT was there to hear what he had to say.
Q. What does it mean to you to be here at Silverstone and actually racing?
Sakon Yamamoto: It was a big surprise for me. Also it is very... I am ready for the race and I am really looking forward to taking part in qualifying.
Q. How was the new track and how was the car?
SY: Basically I like the Silverstone circuit lay-out, also I knew we were going to use the new track so I always thought it was really fun to drive. Car-wise, I had already driven in Turkey for the Friday morning session but I didn't do the afternoon. So for me this was the first time to drive the hard and the soft tyres [together]. In the afternoon I got lots of data from the soft tyres, so it was very useful.
Q. Your hopes for Sunday's race?
SY: For us, we have to finish the race, that is our biggest target. I try to do as much as I can.
Q. Will you be in the car for other races after Silverstone?
SY: Obviously I don't know what is going on for the next races, so I am just concentrating on this weekend. But I am ready so whenever I am called up then I will go.
Q. When did you find out for the first time that you will be racing here at Silverstone?
SY: It was late yesterday afternoon.
Q. What were your feelings at the time?
SY: I was really surprised. Normally when you get news that you are driving, as a driver you are very happy. But it was too surprising, I was a bit shocked. I had to adapt quickly and concentrate for this weekend, and gather any information that I could. It wasn't an easy day yesterday, but I worked with the mechanics, engineers and team members and slowly we could prepare everything for this morning. I was ready this morning.
Q. Have you been pushing hard to get a race chance or was it completely out of the blue?
SY: Actually I don't know how it came about. But as a racing driver I always push in the car. I'd like to meet with the engineers tonight and go through the data from today and then prepare for tomorrow. I have to do this step-by-step, so that I can push tomorrow and Sunday.
Q. Was your Friday programme different to when you drove the car in Turkey?
SY: We basically followed the previous programme as the team wanted. We got through the programme today so I was very happy and I could get lots of data from the tyres -
which is the most important thing.
Q. Given that you didn't have any time to prepare, how do you feel you got on today?
SY: Well yes I am happy with what we achieved today, but still I know I need to improve in a lot of areas. Especially the prime tyre was okay, but when we switched to the soft option tyre we lost a lot of time compared to Karun Chandhok. This definitely comes from [a lack of] experience because I never drove on these kind of slick tyres [before]. Still we are in middle of the weekend so I just have to look forward and keep going step-by-step.
Q. Will this weekend make you hungry to keep pushing for more opportunities later this year?
SY: To be honest, as a driver you want to drive always. But just at this moment I don't need to think about this, because if you are thinking about your future and make a mistake now, then it is useless. So I am just concentrating on this weekend.
Q. Have you spoken to Bruno at all?
SY: Actually we have said 'hi', but I understand how he feels as a racing driver and I want to talk him a bit later on when things have calmed down a bit. At this moment it is very hard to speak to each other, I believe.
Q. It's difficult for both of you this weekend?
SY: It is a bit of strange circumstances, but personally we have had good relations since I joined this team. He was always nice, and that's why... I don't know what he thinks, but I want to speak with him later on.