Rosberg not giving up on 2010 yet
| | |
| --- | --- |
| By Simon Strang | Friday, July 9th 2010, 08:00 GMT |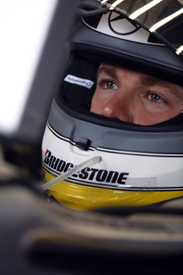 Nico Rosberg believes it is not too late for Mercedes to turn its season around, despite recording its poorest result since the German car maker returned to Formula 1 as a manufacturer at the recent European Grand Prix.
The German admitted Mercedes encountered 'some issues' with the upgrade package it introduced in Valencia, something which included the team's own version of its exhaust-blown diffuser and updated F-duct.
But Rosberg insisted the team's form in the last race was not representative of its ultimate potential and that Mercedes had improved the upgrades for Silverstone.
The German qualified 12th and finished 10th in Valencia, while his team-mate Michael Schumacher was 15th - his lowest ever classified finish in a grand prix.
"It's still doable that we can improve and that we can some really, really strong results," he said at Silverstone on Thursday. "It's getting more and more difficult of course, but when you look at where our car was in Valencia and what we can achieve in the coming weeks, it is a massive steps so we need to wait and see.
"Once we get all those things working on the car and then we can see where we are.
"We had just had issues with it in Valencia, with the upgrade package and with the F-duct for example that we are not extracting the maximum potential out of it. But we will be soon so we have to wait."
Rosberg also moved to clarify stories which suggested he had branded the Mercedes car as 'a disaster', saying that he had been misquoted by the press.
"Valencia was a disaster for us, that's very clear," he said. "We don't want to be qualifying 12 and 15, or wherever we were. Our target is much higher so that was clear for all of us, and I think we all agree in the team. But I think that was stating the obvious and that's all I said and there were just some misquotes in the press.
"Especially where it suggested I criticised Ross [Brawn] – which I would never do because I have the utmost respect for him as a person and as a leader of this team."