Alonso hoping for change of luck
| | |
| --- | --- |
| By Jonathan Noble and Pablo Elizalde | Thursday, July 8th 2010, 14:41 GMT |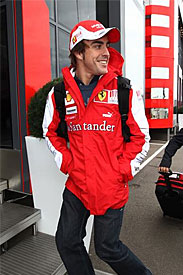 Ferrari's Fernando Alonso is hoping for a change of luck to revive his tile hopes following two disappointing races.
The Spaniard is 29 points behind championship leader Lewis Hamilton after finishing down in ninth position in his home race in Valencia two weeks ago.
And while he admits the nature of the Silverstone circuit will make things harder for Ferrari this weekend, he is confident he can still enjoy a good grand prix.
"I think it will be more difficult here, the characteristics of the track we know are not the same as Canada and Valencia with different circuit characteristics, we will see," said Alonso on Thursday.
"I am quite optimistic for this weekend. We had two unlucky weekends so very soon will arrive one lucky weekend."
Alonso believes Ferrari can do a better job in the second half of the season in order to stay in the title fight, despite not having the quickest car.
"As I said before, we arrive now after two unlucky races for us. We know what we have to do: 30 points more than main competitors in the second part of season.
"I think we can do it after all that happened to us in the first part - the problems we faced. We can do a better job in the second half. I think it is enough to be in fight for championship hopefully, that is all."
The two-time champion, who was angry following the safety car controversy in Valencia, said that race was already in the past.
"I said everything on the website and in the days after the race in much calmer conditions, so I think now also Valencia is in the past. We know what we have to do, we have been unlucky in the last two races, so we try to change the situation in the next half of the season."