Scheckter back to Dreyer & Reinbold
| | |
| --- | --- |
| By Matt Beer | Thursday, July 8th 2010, 11:52 GMT |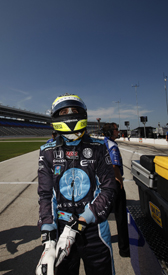 Tomas Scheckter will return to Dreyer & Reinbold for the Toronto IndyCar race.
The South African, who completed half the 2009 season with the squad, substituted for the injured Mike Conway in DRR's #24 car at Texas, before Graham Rahal and Paul Tracy were given the seat for Iowa and Watkins Glen respectively.
But Scheckter has now been called up to join Justin Wilson in the Dreyer & Reinbold line-up again for Toronto, where he briefly led for the team last year.
"I am really happy to be in a DRR car again," said Scheckter. "I know the task ahead at Toronto will be challenging and for the most part, it will be good to learn from Justin and his experience on street courses.
"I look forward to the challenge and feel at home at DRR for this event given our good race pace last year."
Team co-owner Dennis Reinbold added: "We have developed a good relationship with him, and, for us, Tomas made the most sense because we had a great run with him last year. He did extremely well and unfortunately was taken out of the race when he was running up high. We hope to finish what we started."
Scheckter is only confirmed for Toronto at present, with Dreyer & Reinbold yet to announce its longer-term plans.