Massa: Silverstone key test for Ferrari
| | |
| --- | --- |
| By Simon Strang | Wednesday, July 7th 2010, 13:40 GMT |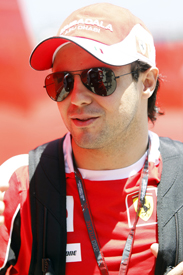 Felipe Massa believes that Ferrari's performance in comparison to that of its rivals at Silverstone will provide a clear barometer of the progress it has made with the development of its F10 in recent races.
The Brazilian, who has not finished on the podium since the Australian Grand Prix in March, remains confident of Ferrari's potential ahead of the British race, adding that for various reasons he and his team-mate Fernando Alonso have not made the most of the F10 in Canada and Valencia.
"I hope we make another good step forward this weekend, with the new updates we are bringing to England, because we saw in Valencia and even in Canada, that the F10 is progressing in terms of competitiveness, even if for various reasons, that did not translate into good race results," he said in his diary column on the Ferrari website.
"In fact, this weekend should provide a very clear test of how much we have improved, both in pure performance and in terms of where we stand against the teams currently ahead of us.
"Of the tracks we have raced at so far this year, Silverstone is most similar to Istanbul, where we had an uncompetitive weekend, so if the F10 works well here, we will know we are on the right road."
Massa added that it is critical for Ferrari to compile good results in the apex of the season - with three grands prix taking place during July - if it is to remain in the hunt for both championships against Red Bull and McLaren.
"Even if we have a good British GP weekend, we cannot afford to relax for a moment, because we know we are a bit behind in the championship and we are at the halfway point of the season," said Massa. "In addition, from Silverstone to Budapest, we now have to tackle three grands prix in four weeks, with further developments coming immediately for Hockenheim and the Hungaroring.
"Which means these three races will be very important and we will be pushing very hard to try and get ahead of our competitors.
"But before then we have Silverstone, which is a circuit I have always liked, even if we will have to see what it feels like now with the changes," he added.
"I watched the MotoGP race there on television a few weeks ago and my impression is that the new track layout is very different to the old one with some of the new 'slow' corners even slower than before.
"We will have to learn the handful of new corners on Friday, to judge if we need to make significant changes to the type of set-up we have run here in other years, although much of the data we have from the past will still be relevant as several sections are much the same as before."